Agent Recommended

Baby Boomers

Culinary

Destination & Tours

Experiential Travel

Family Travel

Luxury

Off the Beaten Path

Romantic Travel

Travel Buzz
Let's Hit the Slopes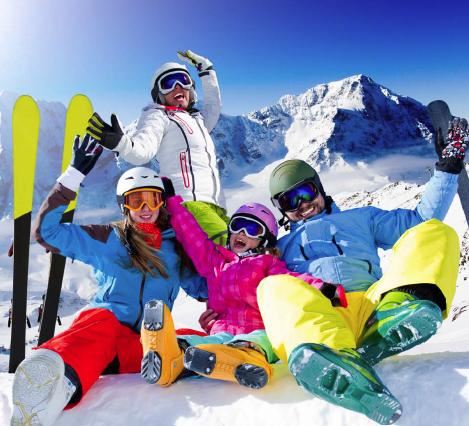 Few family vacation experiences are more memorable than watching your kids learn to suit up and take their first ski or snowboard turns down the bunny hill. Of course, figuring out which hills and trails are just right for their skills can be the ultimate challenge — especially if you're planning a ski getaway for the very first time.
If there are any beginners in your family (parents included!), it's important to choose a destination and resort that has all the conveniences, and has slopes that are specially oriented to enable the newcomers to easily return back to the top. Your local travel professional is not only your best resource for finding the ski vacation that best fits your family's needs, but can help you get the absolute best value. As well, they can get you added amenities and packages that you normally wouldn't be able to book on your own.
It All Comes Down to Planning
For the most memorable and downright fun ski vacation there are a few things to keep in mind when it comes to planning. Know that choosing the right time of year will be one of the most important aspects of creating your wintry getaway. Nothing can be quite as frustrating as skiing the best powder of your life only to be funneled into an hour-long lift line. This is easily avoided by choosing off-peak seasons (seasons can vary throughout the world, so check with your travel professional). Typically, high season is during long holiday weekends, most notably Christmas, and spring break. If you can avoid these time periods you'll save some serious cash and feel like you have the whole mountain to yourself.
Next, consider the advantages of booking a ski-in/ski-out resort where the hills, trails and lifts are located right outside your lodging. Such accommodations can be a bit pricey, but their convenience can be truly worth the extra cost. Also, if you're new to skiing or snowboarding you'll need to decide on either purchasing your own gear ahead of time or renting it at your resort or place of skiing. Newbies who only plan on skiing or snowboarding a few days each year will likely want to opt for renting gear. You'll not only save some cash and frustration from checking-in the bulky gear at the airport if you plan to fly, but save yourself some serious dough should you decide that powder sports just aren't in your families future (hey, at least you gave it a try!).
Skiing with your kids is one of the best experiences in life. However, if they are not quite up to par with your abilities (or perhaps you up to theirs), why not let the pros teach them how it's done by dropping them off at ski school. This way, you and your significant other can tear up the mountain while your kids are learning how to get the feel for it. After a half day lesson, you and/or your kids will be ready to show the world how it's done, well, almost.
Destinations to Consider
Because not all ski locales are created equal, nor are they an ideal choice for families, we've hand-picked some of the most-family friendly ski destinations that are prime for your gang. Whether it's downhill skiing, snowboarding, cross-country skiing, tubing, snowshoeing or just relaxing beside a fire with a warm cup of hot cocoa, these wintry wonderlands are sure to be a hit with your crew. Best of all, there are great ski destinations both close to home and across the globe.
For a fabulous ski paradise that's a short flight for many powder seekers in North America, Jackson Hole, Wyoming is tough to beat. Here you can saddle up and tip your hat as you arrive in the cowboy-esque western town of Jackson, home of Teton Village and the legendary Jackson Hole Mountain Resort. Surrounded by the massive Grand
Teton National Forest, Jackson Hole has become a winter sports magnet with its 450-plus inches of annual snowfall, 2,500 acres of inbounds terrain (including extreme limits runs like Corbet's Couloir) and unlimited out-of-bounds terrain. Beyond the ski resort, Jackson has many family friendly activities available year-round such as golfing, world-class fishing, hiking, mountain biking, rodeo, dog sledding, shopping, dining, nightlife (the "Cowboy Bar" is a must visit), arts and music festivals. If all of this is not enough to entertain you, just under two hours to the north, visitors can experience the first established National Park, Yellowstone.
Another western U.S. ski hotspot is Salt Lake City, Utah, which includes Park City, Canyons, Snowbird, Alta, Solitude, Brighton, Snow Basin and Sundance ski resorts. Located in the foothills of Utah's Wasatch Mountain Range, Salt Lake City has rapidly become one of the top destinations for vacationers all year round. From its classic "champagne powder" snow to its numerous National Parks statewide, Utah has climbed to the top for many outdoor enthusiasts. Salt Lake City International Airport is conveniently located 45 minutes from six top-rated ski resorts with an average snowfall of 500-plus inches. The Cottonwood Canyons, home of Alta, Snowbird, Brighton and Solitude ski resorts, offer visitors some of the best skiing terrain in North America. The home of the Sundance Film festival, Park City, The Canyons and Deer Valley cater more to families and the nightlife orientated crowd (one cannot visit Park City without spending a night at historic "Harry O's" nightclub).
If anyone in your family has ever dreamt of winning Olympic gold amidst one of the most dramatic landscapes, then gather your brood and head north of Vancouver, Canada to Whistler/Blackcomb, Vancouver, B.C., Canada. With the Canadian Coast Mountain Range as its home, the resort has become a top winter and summer destination offering year round entertainment for all ages. Boasting an annual snowfall of over 400 inches, and home of the 2010 Winter Olympics, Whistler/Blackcomb has over 8,100 skiable acres towering over legendary Whistler Village. Great for romantic getaways and spring breaks, Whistler Village (open only to foot traffic) is full of restaurants, shopping and lively nightlife at such hot spots as Buffalo Bills, Maxx Fish, Tommy Africas and Garfinkles. In the summer months, the resort offers world-class mountain biking, hiking, golf and skiing on Blackcomb glacier.
Of course we can't leave out one of the greatest and most picturesque havens for snow sports, beautiful St. Moritz, Switzerland. Boasting 217 miles of prime ski runs, St. Moritz will dazzle skiers and boarders of all skill levels with Alpine thrills all day long. Located in the Upper Engadin, this chic, elegant and exclusive locale is truly blessed with an abundance of sunshine and idyllic weather. And thanks to its altitude, ranging from 5,900 to 10,800 feet above sea level, snow is guaranteed. Highly modern ski lifts ensure a short wait time and a maximum of efficiency in a region acclaimed for its variety — after all, it was here that winter tourism was born almost 150 years ago. Carving paradises, free-ride slopes, spacious bunny hills and a glacier downhill run lure snow sport junkies from all over the world. When it comes to skiing, St. Moritz is family-friendly fun times 10!
Our final pick, should you really want to "wow" the kids with a ski getaway as far from the everyday as is possible, is Wanaka, New Zealand, the heart of adrenaline sports. Even more notable would be Wanaka's outrageous geographical landscape and variety of wineries the small country has to offer. Located on the south island, Queenstown is the hub of bungee jumping, jet boating, skydiving, zip-lining, skiing and snowboarding in the New Zealand Alps. The ski resorts of Cadrona, Treble Cone and Snow Park, located near the town of Wanaka, are a short one and a half-hour drive from Queenstown. In the summer, Lake Wanaka hosts many outdoor activities including golfing, wakeboarding/waterskiing, windsurfing, mountain biking and hiking. Make the trip across the International Date Line and witness with your own eyes the landscape and filming location of the "Lord of the Rings" film series. What kid wouldn't love that?