Agent Recommended

Baby Boomers

Culinary

Destination & Tours

Experiential Travel

Family Travel

Luxury

Off the Beaten Path

Romantic Travel

Travel Buzz
Paradise Found US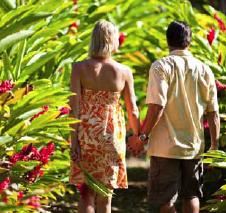 Paradise Found
If it's romance you're searching for, no place is more passion inducing than the hawaiian islands.
The islands of Hawaii are like no other places on earth — especially when it comes to providing the perfect backdrop for you and your sweetie. And if it's a wedding, honeymoon or vow renewal destination you're seeking, there are countless breathtaking locales throughout the Hawaiian Islands that elevate a romantic escape beyond all imagination.
Keep in mind there are six major islands that make up the Hawaiian island chain: Kauai, Oahu, Molokai, Lanai, Maui, and Hawaii Island (the "Big Island"). And because each island has its own distinct personality and offers its own adventures, activities and sights, it's important to consult your local travel professional to learn which island best suits your needs, wants — and budget.
Kauai
Kauai is Hawaii's fourth largest island and is sometimes called the "Garden Isle," which is an entirely accurate description. The oldest and northernmost island in the Hawaiian chain is draped in emerald valleys, sharp mountain spires and jagged cliffs, aged by time and the elements. Centuries of growth have formed tropical rainforests, forking rivers and cascading waterfalls. Some parts of Kauai are only accessible by sea or air, revealing awe-inspiring views.
Beyond Kauai's dramatic beauty, the island is home to a variety of outdoor activities. Kayak the Wailua River. Snorkel on Poipu Beach. Hike the trails of Kokee State Park. Even go zip lining above Kauai's lush valleys. But it is the island's laid-back atmosphere and rich culture found in its small towns and along its one-lane bridges that make it truly timeless, particularly for couples seeking some alone time.
Oahu
Sometimes called "The Gathering Place," Oahu certainly lives up to its name. The third largest Hawaiian island is home to the majority of Hawaii's diverse population, a fusion of east and west cultures rooted in the values and traditions of the Native Hawaiian people. It's this fundamental contrast between the ancient and the modern that makes discovering Oahu so enjoyable.
The clear blue waters of Kailua Beach meet the metropolitan cityscapes of Honolulu. The historic architecture of Iolani Palace meets the timeless memorials of Pearl Harbor. The big city of Waikiki meets the small town of Haleiwa on the North Shore. Whether you're
hiking atop iconic Leahi (Diamond Head), enjoying some of Hawaii's best shopping, or simply unwinding on the sands of the island's beautiful beaches, you'll find a variety of romantic interludes at every turn on Oahu.
Molokai
Unspoiled and virtually untouched, Molokai reflects a Hawaii of the past with no skyscrapers or stoplights in sight. Hawaii's fifth-largest island, Molokai is only 38 miles long and 10 miles across at its widest point. Molokai is home to the highest sea cliffs in the world along its northeast coast (3,600-3,900 feet) and Hawaii's longest continuous fringing reef (28 miles).
On foot, by bike or by 4-wheel drive, this is an island of outdoor adventure. Take the road less traveled and get red dirt in your shoes whether you're hiking along the 1,700 foot cliffs leading to Kalaupapa National Historical Park or discovering Papohaku Beach, one of Hawaii's biggest white sand beaches.
With a high percentage of its population being of Native Hawaiian ancestry, Molokai is place where Hawaiian culture thrives. The people of Molokai continue to preserve their rural lifestyle thanks to their love of the land and you can feel this aloha from small town Kaunakakai to sacred Halawa Valley.
Lanai
You won't find a single traffic light here and that's exactly how the people of Lanai like it. Only nine miles from Maui yet a world away, Lanai can feel like two places. The first is found in luxurious resorts where visitors can indulge in world-class amenities and championship-level golf at The Challenge at Manele and The Experience at Koele. The other is found bouncing along the island's rugged back-roads in a 4-wheel drive exploring off the beaten path treasures like Keahiakawelo (Garden of the Gods) and Polihua Beach. In fact, only 30 miles of Lanai's roads are paved.
The smallest inhabited island in Hawaii, Lanai offers big enticements to couples. From the stunning views atop the pine-lined Munro Trail to watching the acrobatic spinner dolphins from romantic Hulopoe Bay, Lanai is a special place where you're sure to find serenity, adventure and intimacy. If you want to get away from it all, get away to Lanai.
Maui
Stand above a sea of clouds high atop Haleakala volcano. Watch a 45-foot whale breach off the coast of Lahaina. Lose count of the waterfalls along the road as you maneuver the hairpin turns of the Hana highway. One visit and it's easy to see why Maui is called "The Magic Isle."
The second largest Hawaiian island has a smaller population than you'd expect, making Maui popular with couples who are looking for sophisticated diversions and amenities in the small towns and airy resorts spread throughout the island. From the scenic slopes of fertile Upcountry Maui to beaches that have repeatedly been voted among the best in the world, a visit to the Magic Isle recharges the senses. But like every good magic trick, you'll have to see it for yourself to believe it.
Hawaii Island — the "Big Island"
It's easy to feel awed on Hawaii Island. From the molten magma flowing from Hawaii Volcanoes National Park to the snowcapped heights of Maunakea; from the green rainforests of the Hamakua Coast to the jet-black sands of Punaluu Beach; Hawaii Island is an unrivaled expression of the power of nature.
To avoid confusion with the name of the entire state, the Island of Hawaii is often called the "Big Island," and what an appropriate name it is. Nearly twice as big as all of the other Hawaiian Islands combined, its sheer size can be inspiring. You'll find all but two of the world's climatic zones within this island's shores.
The dramatic size and scope of the largest Hawaiian Island create a microcosm of environments and activities. On this island's vast tableau, you'll find everything from extravagant resorts and incredible golf courses to modest local towns and sacred Hawaiian historical sites, from the birthplace of King Kamehameha I to Hawaii's first missionary church in Historic Kailua Village (Kailua-Kona).