Agent Recommended

Baby Boomers

Culinary

Destination & Tours

Experiential Travel

Family Travel

Luxury

Off the Beaten Path

Romantic Travel

Travel Buzz
Tis the Season
By Lynne Christen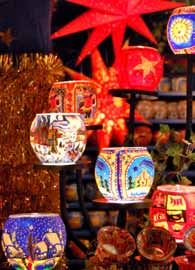 Exploring Europe's Christmas Markets
Experiencing Europe during the holiday season is a wonderful way to enjoy the holiday season while discovering old-world traditions and foods that can only be experienced during this special time of year. Traditionally held from late November until Christmas Eve, Europe's Christmas markets have remained a beloved seasonal celebration for nearly 600 years.
According to historians, the first Christmas market was held in Dresden, Germany, in 1434. And while Germany's Christmas markets are probably the most well-known, these holiday markets can be found throughout nearly all of Europe — from France to Austria, Sweden to Hungary. The markets are individually unique and reflect the region's character in a jovial atmosphere often highlighted by twinkling lights and live musicians playing and singing Christmas carols in the country's native language.
The Christmas season produces some of the loveliest artistic and culinary selections of the year, and retail Christmas markets offer a great variety of seasonal delicacies and traditional entertainment. Tented artisan stalls and stores in every city center or town square remain open well into each evening offering items not generally found anywhere else in the world. From wooden toys and glass ornaments, to nutcrackers and woolen goods, the markets offer a wide array of gifts and treasures. As well, a delectable variety of seasonal treats such as Glühwein (hot, mulled wine), cider, roasted chestnuts, grilled sausages, candied fruits, and baked apples wait to be savored.
Make the Most of the Season
One of the best ways to experience some of the many markets is on a river cruise where you can relax and enjoy multiple stops in beautiful towns all decked out for the season. Christmas markets are often established near a city's principal church, and cruise passengers may have the opportunity to attend services at a historic church as part of their itinerary.
The waterways typically utilized on these cruises include the Rhine, Moselle, and Danube rivers; and packages can vary from simple day cruises to all-inclusive even-night vacations. Areas of France, Germany, Austria, Hungary, Slovokia, Holland, and Belgium are emphasized on various itineraries. There are also river itineraries that specifically highlight the Bavarian markets. During a river cruise, ships stop at small ports along the way so cruisers can disembark at each market. Ship accommodations are typically more spacious than those found on ocean cruise ships. Also, meals on river cruise ships are often more casual, with no formal dress or set seating required.
Nuremburg, Passau, Vienna, Amsterdam, Cologne, Mainz, Frankfurt, Prague, Budapest — and many smaller cities in between — are popular stops where the Christmas spirit truly comes alive. Markets are at their peak in Germany, with over 2,500 sprinkled about the country. The German markets alone draw upward of 160 million visitors to the country's charming cities and small towns.
To make the most of your river cruise, be sure to book early with your local travel agent as these cruises can fill quickly. There are a number of river cruise companies that specialize in Christmas market river cruises throughout Europe. These package trips will not only give you a festive experience in offseason Europe, they will fill up your family's Christmas stockings with interesting and timeless gifts.