Agent Recommended

Baby Boomers

Culinary

Destination & Tours

Experiential Travel

Family Travel

Luxury

Off the Beaten Path

Romantic Travel

Travel Buzz
New Zealand: Beyond Amazing
By Joan MacKenzie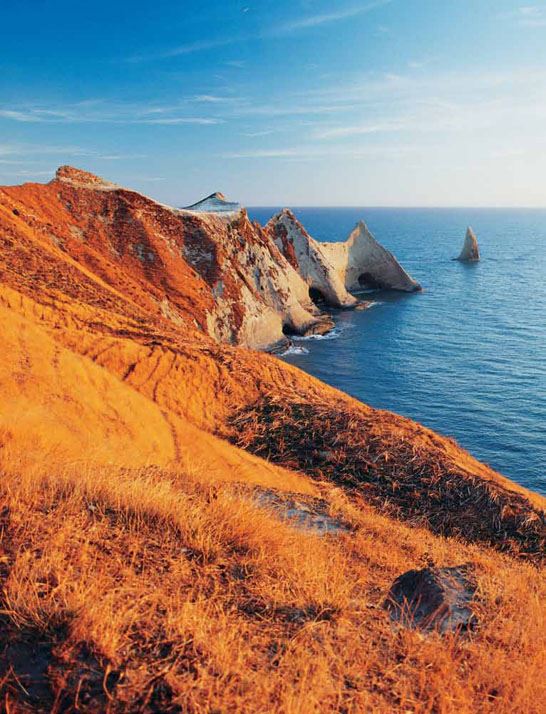 Jam-packed with all kinds of excitement, natural wonders and unexpected thrills, New Zealand is guaranteed to leave you speechless.
"Are you serious?" I said to myself, looking around to see if anyone else in the group appeared nervous. "We just got here. It's not even 10 a.m.!"
I had arrived in Auckland just hours ago after stepping off a relaxing Air New Zealand flight from Vancouver. Now I was looking up at the tallest tower in the Southern
Hemisphere, the 1,076-foot-tall Auckland Sky Tower, site of the famous SkyWalk and SkyJump.
Surely I wasn't the only one in our tour group who was having a few doubts about suiting up and strapping into a safety harness just to gaze down at the Earth from all
the way up there. Not to mention the fact that we'd each jump off of it and free-fall for 11 seconds in what's called a cable-controlled base jump. No way!
"But I didn't travel 7,000 miles to back out now," I rationalized. "Let's do this!"
And I did!
As it turns out, it truly was an exhilarating experience — and the view…wow! It felt as though I was on top of the world. I'll admit I was hesitant to step out on the ledge of the SkyWalk, but everything after that, including the jump, was a piece of cake.
To help bring our heart rates back down to Earth, our guide had arranged a personal tour of the Auckland Museum. The museum provided a great introduction to the diversity of the culture of New Zealand's North Island and gave us an insightful history lesson on the Maori people and their arrival here.
Afterwards, we learned that we were going to hop aboard an 80-foot America's Cup racing yacht for a two-hour yacht race around Auckland's beautiful Waitemata Harbour. Throughout the race we soaked up more fabulous views of Auckland and Rangitoto Island, and even had a chance to take the helm as the yacht's crew cheered us on! Cutting across the water at such speed was indescribable.
Over the course of the next several days we traversed New Zealand's North and South Islands by sea, air and land, "oohing" and "aahing" everywhere we looked. This was especially true with our visit to "Middle-earth" and the fantastic Hobbit on movie set which provided the setting for The Hobbit and The Lords of the Rings movie trilogies. From snowy peaks to bubbling brooks and enchanted forests, the lands of New Zealand are every bit as magical in real life as they are on the big-screen.
Rotorua and the Bay of Islands
A few days into the trip our group of 16 split into two smaller groups, with one group heading north to the Bay of Islands, and my group going south to Rotorua.
Packed with lush rolling hills,hot sulfur pools and lakes, Rotorua is considered one of New Zealand's top destinations for adrenaline junkies. Whether it's four-wheeling, jet boating, sky diving or bungee jumping, there are plenty of thrills for daredevils of all levels. There we zip-lined, witnessed exploding geysers and bubbling hot pools with water hot enough to boil eggs.
One "must experience" activity in Rotorua is zip-lining over the tree tops with Rotorua Canopy Tours. Zip-line guides can provide a wealth of information on New
Zealand's native wild life and the danger it has been facing since man first stepped foot here.New Zealand is committed to protecting its native ecology, which cannot be found anywhere else in the world. Qualmark, New Zealand tourism's official quality assurance organization, is dedicated to their mission of ensuring that travelers experiences are of the highest quality, while meeting stringent environmental criteria.
Personally, I prefer a more sedate adventure such as a luxury catamaran cruise on Lake Rotoiti with Pure Cruise. Sharing tranquil waters under billowing sails, lovely wine, and a plunge into a natural hot spring with friends is a perfect way to spend a lazy afternoon.
If you prefer to take to the sky, a tour of Rotorua on board a twin engine float plane or helicopter with Volcanic Air Safaris is a must. There are 16 lakes in Rotorua which offer everything from water-skiing and beach walking to romance and non-stop family adventure.
While my group was living it up in Rotorua, the other gang made their way to the gorgeous Bay of Islands for an overnight cruise by Great Sights on the Ipipiri. Their adventure took them through the very scenic Bay of Islands, which is comprised of inlets and islands. There they anchored in a sheltered bay, which had only one other small boat.
"The unspoiled beauty of the Bay of Islands was breathtaking and this cruise was a lovely way to experience it," said Jane Short, who also made the journey from Canada.
"Some guests kayaked from the ship's sport platform, while others relaxed on deck or took a tender to a lovely empty beach to stroll, snorkel or swim. Being late spring, the water was a little chilly for swimming, but a few people just couldn't resist a quick dip in the gorgeous crystal clear water."
Maori Culture and Tradition
An appreciation for Maori culture is evident throughout New Zealand. The official language of the country is Maori; it is taught in schools, used in government and heard on radio and television. In fact, visitors are encouraged to learn and participate in traditional Maori customs which center around food and dance.
"Participating in the Waitangi Treaty Grounds welcome ceremony, of which I was designated 'Chief' was special," said Atlanta, Georgia native Roger McWhorter. "I was chosen to withstand the challenge of a warrior without flinching or losing eye contact. To show their appreciation for our respect of the Maori culture, I was presented with a Tai Aha, a ceremonial spear. It was a very simple ceremony, especially touching when the leader expressed his feelings and respect in Maori terms and language."
Nearing the end of our seven day tour of New Zealand we had enjoyed it all — beautiful vistas, flying high, leaping off skyscrapers, sailing placid waters, zipping over tree tops, wonderful food and wine, and much more. However, there was one more surprise waiting for us just outside of Queenstown: an afternoon and night at Millbrook Resort.
Set on 500 acres, the five-star Millbrook Resort has it all, whether it's 27 holes of golf you're looking for or luxurious accommodations. Maybe it's a pampering spa or
world-class dining you're after? You will find all this at Millbrook Resort, with nothing but rolling green hills surrounding you.
When visiting New Zealand, you can expect the unexpected. Kiwis (as New Zealanders are affectionately called) are passionate about their history. They're quite innovative in creating a balance between the historical Maori culture and the sophistication of their art, sports and entertainment today. Best of all, Kiwis love sharing their culture, traditions and country with all who visit.