Agent Recommended

Baby Boomers

Culinary

Destination & Tours

Experiential Travel

Family Travel

Luxury

Off the Beaten Path

Romantic Travel

Travel Buzz
Ready to Eat Savoring the Global Street Food Scene One Taste at a Time
By Connie Walsh
Traveling foodies have a delicious secret: the way to discover a destination's history, culture and people is through its cuisine, especially when street food is on the menu. While street food typically focuses on regional influences and flavors, what makes it all special is that it's quick, inexpensive and easy to eat while on the move.  Bakeries and cafés are wonderful places to explore — but it's at the urban food stalls lining most city streets and squares where some of the tastiest frites, crepes, döner kebabs and much more can be found, and where the tourist-to-local ratio is at its best. To experience the true culinary essence of a city, just head down the street and dine like a local. From sweet to savory, here are four of the best cities for discovering the world's most delectable street eats.
Paris, France
Europehas a thriving street food scene, even in cities where one might not expect it.Paris, known for its gastronomic restaurants, romantic sidewalk cafes and dare we say, highbrow food-a-'tude, is one such place. Everywhere you look crêpes are being cooked and served from stalls and kiosks. The thin, fl at, unleavened pancakes can serve as quick lunch, a hearty snack or a yummy desert. Look for where they are being cooked to order and not stacked up waiting. There are lots of choices for savory fillings, like goat cheese, and ham and tomato. For a sweet treat don't pass up fillings like the perennially popular Nutella (try it with banana). A plethora of patisseries offer scrumptious grab-and-go options. The quintessential French cookies, pastel-colored macarons (not to be confused with coconut macaroons) are truly delightful. Light and airy, they are filled with either buttercream, jam or ganache. Flavors like neon green pistachio and rose are everday favorites — as is the soft, bread-y Viennoise pastry. Pair with a café au lait and you'll have the perfect morning or late afternoon pick-me-up.
MACARONS:
THE QUINTESSENTIAL FRENCH COOKIE
The almond-based macaron may only weigh a few grams, but its fl avor is unforgettable. Its thin, crisp shell, slightly rounded shape, tempting variety of fl avors and colors draw devotees to devour them. Pierre Hermé, acclaimed for his divine macarons that feature unique flavors like olive oil and vanilla, dark chocolate and black currant, and strawberry and wasabi, has been dubbed "The Picasso of Pastry" by Vogue magazine. PIERRE HERMÉ
72 Rue Bonaparte (6th Arrondissement) and other locations aroundParis
BEST OF THE BEST:
Parisian Bakeries:
When passing a patisserie anywhere in France, look for the designation Meilleur Ouvrier de France (MOF) on the awnings and windows. It means the baker has been designated by the French government as one of the top culinary craftsmen. To satisfy your sweet-tooth, be sure to stop in at one of these incredible bakeries and judge for yourself:
ARNAUD LARHER (MOF)
53, Rue Caulaincourt
75018Paris(18th Arrondissement)
LAURENT DUCHÊNE (MOF)
2, Rue Wurtz
75013Paris(13th Arrondissement)
Can chocolate be considered street food? InBrusselsit can. And in less than 90 minutes fromParison the high-speed Thalys train, it's well worth the trip. Belgium's passion for chocolate began in the 17th century when the Spaniards, who ruledBelgium, brought back cacao seeds fromSouth America. It was love at first taste in the city's elegantGrand Place(central square) where the treat was first served to European's nobility. Today theGrand Placeis bordered with chocolate shops that trail out past the winding cobblestone streets. Inside the shops, chocolates are displayed like jewels in glass cases and locals passing by frequently pop in for a few pieces. Be sure to also sample the pralines as they are filled with a variety of nougats and creams. If you still can't get enough, there are a number of chocolate tasting tours offered and they are delicious fun. Pierre Marcolini and Laurent Gerbaud feature superb chocolates and are ideal places to sample some of the city's best.Belgiumis also synonymous with waffles and they are an integral part of the city's street food culture. Opt for either theBrusselsstyle or the denser Leige version with its caramelized crunchiness and get in a queue at one of the many stalls or waffle trucks. Most Belgians go for just a dusting of powdered sugar, but if you like you can top yours with strawberries and whipped cream or whatever other goodies the vendor is offering. You are on vacation after all. Enough of the sweet talk, now on to frites. Frites were invented inBelgiumand folks here are passionate about them. Whatever you do, don't call them French fries! Twice fried to a crispy golden brown, they are served up in paper cones with your choice of sauce. The local favorite is a garlicky mayonnaise sauce. Friteries are everywhere and everyone has their favorite.
WAFFLES EVERYWHERE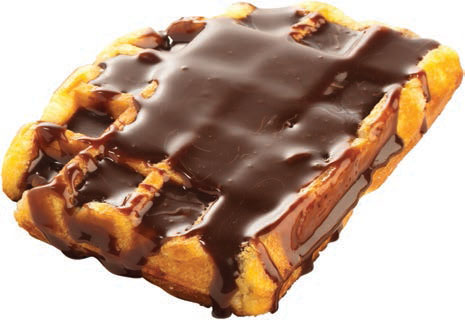 Belgians don't traditionally eat waffles for breakfast, but that doesn't mean you can't. Waffles are easy to find, so make sure to look out for ones that are freshly cooked. A local favorite is Le Funambule Waffles (42 Rue de l'Étuve), an unassuming little shop that has been in business since 1867.
Berlin, Germany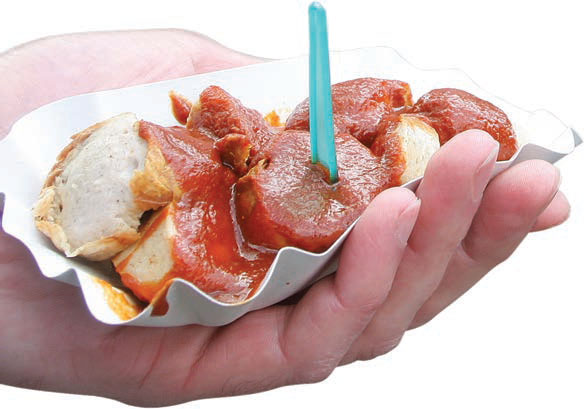 Imbiss anyone? This German term for street eats has gotten a lot of hype in recent years as the kiosks selling steamed bratwurst — associated with most train stations — are considered old school.Berlinnow boasts an international foodie culture that represents its changing population and appeals to its young hipsters. There is Korean imbiss for a kim-chee fix, made to order burritos and quesadillas for take-away, and the Turkish döner kebab — served in a pita and adapted for German tastes — has been growing wildly in popularity.  But Germans do love German food and Berliner's are no exception. WKD Lebensmittel in Mitte (a key tourist area) is more mini-grocery store than restaurant and specializes inBavarian streetfood. Liver dumpling soup is often one of the blackboard specials, which if you choose, can be eaten at one of the  icnic tables inside. The city's most popular street food is currywurst — bite size pieces of pork sausage smothered in spicy ketchup and curry flavored sauce, served in a paper bowl with a plastic spoon. With its post-World War II proletariat roots, it's believed that German housefrau, Herta Heuwer, bartered with some occupying British soldiers — beer for English curry and Worcestershire sauce — and created the dish. She set up a stall and sold it to the workers rebuilding the city. More stalls followed and the rest is history. If you have a particular interest in this hearty street food, be sure to check out the Deutsches Currywurst Museum, or just headto Konnopke's Imbiss (Schönhauser Allee 44a in Prenzlauer Berg) to fill up.
Istanbul, Turkey
Laid out below domes and minarets, the gorgeous and cosmopolitan city ofIstanbulis a mecca for street food aficionados. Ancient markets now house stalls selling a variety of street foods like midye tava (fried mussels on a skewer), kumpir (oven-baked potatoes with savory fillings) and mercimek kofte (mashed red lentil balls wrapped in a lettuce leaf.) Pushcarts and kiosks are ubiquitous inIstanbul, selling corn-on-the-cob, pastries, squares of bici bici pudding and chewy dondurma (Turkish ice cream made with a fl our from wild orchid roots) served up by costumed vendors. Serious foodies often opt for a guided culinary tour that explores the markets and the back streets of old Sultanahmet, but a little homework and an adventurous spirit are all you need to enjoy a feast for the senses. Step out of your hotel in the morning and you will see pushcarts filled with sesame studded simits. A cross between a bagel and a New York-style pretzel, Istanbullers eat simits throughout the day.Don't pass up the opportunity to experienceTurkey's quintessential street food, the döner kebab.
Made of lamb, beef or chicken and grilled or roasted on a spit, the meat is thinly sliced and served on flat bread with all sorts of fi xings. But if you're struck by the spirit of "when in Istanbul…," try the country's national dish, kokoreç, which is made from seasoned lamb intestines — with perhaps some alternate offal mixed in — and grilled over charcoal, chopped up and served on crusty bread.
Along the Bosphorus, roving vendors sell mussels and a few lira will buy you a handful and a piece of lemon. On the bustlingGalataBridgeyou can have a fish sandwich cooked and served up from the fishing boats. Sit, eat and take in the sights and sounds of the waterfront. Enjoy dessert at nearby Güllüoglu Baklava which, arguably, has the best baklava in Turkey. If you're still hungry, walk over to the legendary Spice Market for some Turkish delight. This classic, mouth-watering sweet confection dates back to theOttoman Empire. The Sultans would be pleased that you tried — and enjoyed — all the Turkish food and would be sure to wish you afiyet olsun! (Bon Appétit!)