Agent Recommended

Baby Boomers

Culinary

Destination & Tours

Experiential Travel

Family Travel

Luxury

Off the Beaten Path

Romantic Travel

Travel Buzz
Creating European Memories
By Sara Pucely
When my boyfriend and I decided to plan a two week trip to Europe, we wanted to visit several different countries and see as much as we could. Since planning an overseas vacation can be stressful, we decided that a tour would be ideal. Contiki Holidays had just what we wanted, so we booked their London, Paris and Amsterdam 10-day tour and relaxed knowing we would be traveling with people our age. Contiki has a simple philosophy of creating fun, carefree vacations across the globe with an unbeatable mix of sightseeing, culture, friendship and free time — all at an affordable price. As well, Contiki trips attract like-minded travelers between the ages of 18 and 35 from all around the world. Their itineraries can be customized to include all the sights and activities that students and  young professionals are interested in exploring. Accommodations, transportation, some meals and excursions, and a tour guide are all included in the price. 
LONDON, ENGLAND
On the first day of our tour, we arrived at London's Heathrow Airport. We took the Underground (fare is included with Contiki) to the Imperial Hotel in Russell Square. There we met our tour group and tour guide, Anna, who was very organized. After a tour briefing, we enjoyed our first included 3-course dinner at the hotel and got to know some of our tour-mates. From there, Anna took us on a walking tour of London. We covered a lot of ground in a short time, walking through Leicester Square, Piccadilly Circus and Covent Garden. Anna was quite knowledgeable about the city and shared plenty of fun facts. Afterwards, the group split up and we went to Punch & Judy's, a local pub, with our new friends.
For our first full day in England, we boarded our tour bus after an enjoyable full breakfast buffet. Our first stop was mystical Stonehenge, a couple of hours outside of the city. The second stop was the picturesque city of Bath, where we had time to explore on our own and eat lunch. Later we went to the Roman Baths with our group. It was fascinating to see the baths and imagine the wealthy Romans of the past relaxing in them. On the return bus ride back to London, we became better acquainted with many in the group, which had a good mix of people from around the world. Upon returning to London, we went to Contiki's headquarters to book the attractions we wanted to visit the next day.That night, we went to another London pub for pints of beer and authentic fish and chips.
Day three in London, a free day, found us touring the Tower of London, London Dungeons and St. Paul's Cathedral. The Contiki bus made several stops that morning and we got off at the Tower of London, where past kings and queens have lived. From there, we had lunch and walked to the eerie London Dungeons and took the Underground to the amazing St. Paul's Cathedral. The intricate artwork and statues inside the cathedral are breathtaking. We went back to the hotel to freshen up and have dinner before our night at the theatre. We saw a live performance of Wicked (included on the Contiki tour). Afterwards, we had another fun night out at the pubs with our new friends.  
PARIS, FRANCE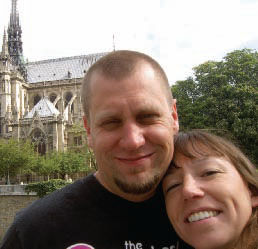 Getting an early start the following morning, we boarded a bus to Dover and then enjoyed a scenic ferry ride across the English Channel before a bus ride into Paris.  When we arrived in Paris, Anna gave a guided bus tour of the city. Once again, we were amazed by her insightful knowledge.  After a long day of traveling, it was nice to arrive at the Hotel Median Paris Congres, where we savoured our second included 3-course dinner. We then took a fun cruise on the River Seine (included on the Contiki tour) to view the City of Lights. 
Our second day in Paris was another free day.  We began the day with a great breakfast followed by a group photo at the Eiffel Tower. After the group photo, we decided on the Fat Tire Bike Tour, which is a new option arranged by Contiki. This was one of our favorite activities of the entire tour! Biking is a great way to see Paris and our tour guide was fantastic. We rode at a good pace and we're able to see so much! When we completed the bike tour, we had lunch with our friends at a French bistro and then took our first Metro ride to the Musee d'Orsay. That night, we chose to forego the Moulin Rouge show option. But we met the group later at O'Sullivans Irish Pub next to Moulin Rouge and had a spectacular night out. 
On our last day in Paris, we chose to explore incredible Notre Dame (instead of joining the group tour to a perfumery). Afterwards, we walked to the Louvre, where we easily met up with the rest of the group. We spent a few hours there and only touched the surface of the museum's vast collection of artwork! Then we shared a yummy crepe and boarded the Contiki bus to Versailles. A guided tour of Versailles was included in the tour. The gardens and all the rooms were very impressive! On the way back to Paris, we had the choice of going to the Latin Quarter for dinner or back to the hotel. We decided to have a romantic dinner in Montmartre on our last night. We walked up the steps to Sacre Coeur Basilica and visited the amazing church. The view of the city from here is truly remarkable. Then we wandered the streets of Montmartre and found an inviting restaurant to have dinner.
AMSTERDAM, NETHERLANDS  
The next morning, the group split up. Many of our tour-mates were traveling with us to Amsterdam, others were going to Rome and some were remaining in Paris. We said our goodbyes to those not joining us in Amsterdam and boarded the bus to the train station.  We rode a high-speed train to Amsterdam and arrived at Schiphol Airport by early afternoon. From there, we took a huge cab to the Blue Square Hotel.  We met the group and took a tram (2-day pass included with Contiki) to Dam Square. From there, Anna gave us a walking tour through Dam Square and the Red Light District.  This was the end of our organized tour. After leaving the group, we soon realized that Amsterdam is difficult to get around. There are all forms of transportation — trams, cars, bikes and other pedestrians — and canals on every other block! We found our way to Leidseplein Square, watched dancing street performers and had dinner at Melkweg, a music venue. The café there has amazing food at reasonable prices! 
On our second day in Amsterdam, we enjoyed the included full buffet breakfast at the hotel, which was the best on the trip. We did a little shopping near the hotel and then took the tram to the Anne Frank Haus.  The line was long, but it was well worth it. From there, we toured the Heineken Brewery and had a few pints with some friends from the group. Afterwards, we did more shopping.  Amsterdam has great stores; the prices are affordable and the souvenirs are high quality. We then met some of the group for dinner and drinks in Dam Square.
 Our Contiki trip was amazing — we made so many memories, met long-lasting friends and got to see a lot of each city. It exceeded our expectations, our tour guide was fantastic and we saw so much more than we would have been able to see on our own. It took a lot of stressful planning out of our trip and everything ran smoothly.