Agent Recommended

Baby Boomers

Culinary

Destination & Tours

Experiential Travel

Family Travel

Luxury

Off the Beaten Path

Romantic Travel

Travel Buzz
A Land of Many Contrasts
By Christel Snider
Tunisia is a small country in North Africa between Libya and Algeria.This land of many contrasts offers high-end resorts on the Mediterranean and historic Phoenician, Roman, Byzantine and Ottoman ruins, including Carthage, Dougga and Sbeitla. More than half the region consists of the Sahara desert. Sprinkled in are sophisticated cities and remote mountain villages.
Since this was my second group tour of Tunisia, I knew exactly where I wanted to revisit and the new destinations I longed to explore. We began our 17-day tour with a comfortable flight from Seattle to Paris on to Tunis (smooth from start to finish), and were met in the airport by our Tunisian guide who spoke perfect English. He whisked us off to the 5-star Golden Tulip hotel. We began our holiday with free time to lounge by the pool, and recharge before heading out for two days of exploration to the ancient site of Carthage, the Bardo Museum in Tunis, and of course, shopping in the souk (commercial quarter) of the capital city. There, we wandered through narrow corridors where we could buy anything imaginable: spices, fruit, shoes, purses, clothing, pots and pans, chickens and more...
One of the most scenic, beautiful towns we had seen on our journey was Sidi Bou Said. With its white homes, brilliant blue doors and multi-colored bougainvillea, it is a photographer's dream come true. The best place for photos was off the main street (picture winding cobblestone streets without a soul in sight).There were many restaurants to choose from, and most overlooked the turquoise blue Mediterranean. If nothing else, make a point to sip tea in a café and enjoy the incredible view. When we left Tunis to begin our journey south, our group visited two amazingly well-preserved, ancient sites called Dougga and Sbeitla. They were filled with temples, baths, arches and homes with mosaic floors, 2,000 feet above the valley with never-ending views. Although we arrived after lunch, our bus was the only one in the parking lot! We had the ruins all to ourselves, making us feel as if we were really transported to 2nd century AD.
Our group spent two nights in the town of Tozeur, which borders on the Sahara and is situated next to the largest oasis in the south. It contains over 1.6 million palm trees that provide visitors with some of the sweetest dates in the world. There, we stayed at the opulent Dar Cherait hotel. Built in the classic Arabian style, we were immediately transported back to the days of "1001 Arabian Nights." What a perfect spot in the heart of the city! From Tozeur, we enjoyed a scenic ride into the cooler mountains aboard the beautifully restored Red Lizard train (given to the Bey, or King, of Tunis in 1940 by the French) from Metlaoui up into the canyons of the Seldja Gorge. Our tour then took us across the Chott el Jerid (salt desert) to the town of Douz and on to Zaafrane, which is in the Sahara Desert. Nothing will ever match the feeling of awe as I looked across the golden sand dunes that stretched on and on. Like a sea of sand, the "waves" came in all shapes and sizes. My brave group spent one night in a desert camp, and enjoyed an evening meal as we sat in the sand. First, the bread was baked to perfection in the sand and then served to us along with soup, couscous, and tender, delicious goat.
After dinner, we drank sweet mint tea around the campfire before retiring to our tents. With the minimum of comfort, we fell asleep in the absolute stillness of the desert with the moon shining so brightly that no light was needed. During the early morning a light rain fell-the first of the summer for Zaafrane. The next morning as we left Zaafrane, we stopped at the local shoemaker who made desert shoes for everyone in the group. To actually meet the person who made the authentic slippers by hand was an experience that could not be topped. It gave work to a localTunisian and beautiful shoes to all - definitely a win-win situation! Our group was then treated to two nights at another "tent" camp in the desert, but this time it was the 5-star Pan Sea at Ksar Ghislane!
Each tent had amenities galore, such as air conditioning, a heater, hot and cold water, shower and toilet. The resort has fine dining, a beautiful swimming pool, a spa and of course, the Sahara desert! We spent the morning on the Sahara in the comfort of our 4X4 vehicles. This is where I recommend you take your camel ride. There are no hawkers or theatrics...just you, your camel and the sands of the famous desert.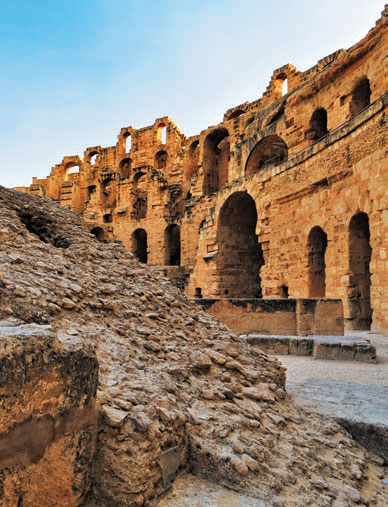 After relaxing for two days at our desert camp, we made our way to the beautiful island of Djerba for a four night stay at the luxurious, centrally located Radisson SAS hotel. It's no surprise that the island of Djerba was named the number one next "Hot Spot" by Trip Advisor in 2008. It had a great mix of modern and ancient worlds, with about 100 waterfront, high-end hotels on the Mediterranean shoreline along with many ancient sites.
Although the amazing beach made it difficult to leave my lounge chair and board the tour bus, I knew I had to see and do all that I could. The ghorfas (used for grain storage) and ksours (desert castles) of the Tataouine were to be explored that day, and I am glad I didn't miss it. They were perched on an easily defendable hillside and provided both shelter and fortification (for a sneak peek at this amazing area, check out the original Star Wars movie!).
On our last day, we got up early and reluctantly boarded the bus at 6:00 a.m. Rather than flying from Djerba to Tunis, I thought it would be more interesting to spend the day driving 500 kilometers and saying farewell to this country of olive groves, date palm oasis and sunshine. En route, I convinced our guide to stop for an hour at the remarkable El Jem, built in 230 AD. Able to accommodate 30,000 spectators, El Jem is the fourth-largest Roman coliseum. According to a few of my fellow travelers who have been to Rome, this one is better preserved. We were able to wander freely throughout, from the underground rooms where the lions and Christians were kept, right up to the top level of spectator seating. With only about 30 visitors at the time, we had El Jem almost totally to ourselves!
There is so much more to Tunisia, so we plan on returning to experience more of the food, festivals, weekly markets and even golf! Bordered by sea and sand, this country has much to offer, and is a wonderful blend of old and new cultures. Plus, the Tunisian people are warm and eager for tourists to enjoy their country. At no time in my travels have I ever felt anything but safe and respected, even with my uncovered head and bare shoulders. For a change of pace, I highly recommend a holiday to this jewel in North Africa!