Agent Recommended

Baby Boomers

Culinary

Destination & Tours

Experiential Travel

Family Travel

Luxury

Off the Beaten Path

Romantic Travel

Travel Buzz
Into Wild Africa
By Christine Thurlow
Kenya's vast plains and abundant wildlife offer a spectacular safari experience.
We had already spent nine days of traveling throughout Kenya and our safari experience had so far exceeded all of our expectations. However, it wasn't until we arrived at our most anticipated game reserve - Masai Mara-that we experienced the most remarkable highlight of our trip in this breathtaking land.
Our guide, James Kimani from Eyes on Safari, was particularly excited to show us this area of his country. Even with our high expectations, the Masai Mara game reserve managed to leave an unforgettable impression on us. Up until now, we had experienced a variety of deluxe games lodges in other areas of Kenya - and while all the lodges were nicely appointed, we were most amazed with our stay at Kichwa Tembo, a luxury tented camp. The 'tents' at Kichwa Tembo are essentially hotel rooms with canvas walls and the unique ability to hear the wildlife from the comfort of your bed, though all animals re behind electric fences and are not nearly as close as you may think. The daily routine on a safari typically begins with an early morning game drive, followed by breakfast. There is some free time before the late afternoon game drive, and then dinner. A plentiful buffet is common at mealtime with fresh omelets for breakfast and stir-fries or BBQ for lunch or dinner. At Kichwa Tembo, this routine was exchanged for some very nice surprises like a full-day game drive with a picnic lunch and meals served by charming waiters.
Roughing it in Luxury
For our first morning at Kichwa Tembo, we were awakened inside our luxury tent by our friendly attendant with coffee-the perfect wake up call! Then, before dawn approached, we were transported to our hot air balloon launch, an optional but highly recommended excursion. As we lifted off the ground we were treated to a beautiful sunrise as we gained height over the trees.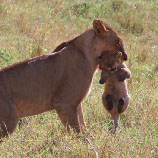 During the forty-five minute balloon ride, we saw numerous wildebeest, zebra, eland and Thomson gazelle on their migration march. Our pilot maneuvered the balloon so that we all had equal time facing forward. Soaring just above the ground our flight took us close to the border of Tanzania where we were treated to a full breakfast in the middle of the savannah. I am still amazed that they could cook fresh omelets and waffles while the wild animals remained at a safe distance from us all.
The next day as our 4x4Toyota Land Cruiser raced along one of the main dirt roads, we had no idea that what lay ahead was an amazing opportunity to observe a pride of lions. We had seen lions on a safari drive already, but not this close up and not as active. At first they seemed content to laze around a recent wildebeest kill, but as the juveniles became restless and the father approached, the mother began the process of motivating her young cubs to follow. This is where the entertainment began. The juveniles were little help as they preferred instead to knock over their younger siblings than assist with any encouragement. As one cub would try to nap, the mother would gently pick up the other cub by the scruff of the neck and transport her forward. When she went back for the other cub the first cub would follow in a funny gallop to keep up. We thought they would never gain any distance, but eventually they managed to make some progress. It was so engrossing to watch because it reminded us there are some things that all families in the world share.
After the pride moved on we began to search for the rest of the "Big Five"-a group of animals identified historically as the most difficult to hunt: lion, elephant, rhinoceros, cape buffalo, and leopard. It is quite a challenge to see all five on safaris, but we were confident that our luck would hold. That morning we had already seen lion and cape buffalo, so our driver headed towards a popular area for black rhino and with her sharp eyes she spotted a pair. We immediately raced in that direction to get a closer look. Soon after we came across a herd of elephant and spent some time watching a baby nursing and the rest of the herd eating clumps of grass. This left only the leopard to find and they are known for being elusive.
The Great Migration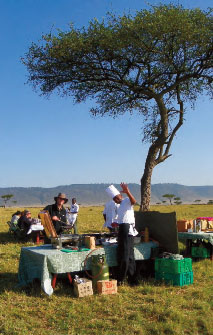 That afternoon brought another special experience-witnessing the wildebeest migration and their difficult crossing of the Mara River. Our driver managed to find a good vantage point and we waited patiently as hundreds of wildebeest and zebra approached the waters edge and got up the courage to start crossing. The splashing attracts the crocodiles that approach to get in the way of the thrashing line of animals. The wildebeest instinctively jump over the crocs and most do a good job of evasion but eventually one young calf was caught in the jaws of a hungry crocodile. It was a sad memory, but our guide reminded us it is a part of the circle of life. I understand this, but it broke my heart over again when the mother came looking for her calf and made the trip back over in search of her child.
On the way back to our camp we were still searching for leopard. In my mind I was thinking that we had been lucky enough to see four of the "Big Five" that day and then our driver found a leopard asleep on a mound in the grass. As we were the first to come across her, we had an excellent chance to watch as she noticed a warthog and started to wake up to hunt. She was unsuccessful this time, but it was amazing to watch her disappear in the grass before our eyes.
It is truly incredible how these animals blend into their surroundings and I am humbled to have observed so much wildlife interacting in their natural habitat. For many years my dream vacation has been to go on safari in Africa. It is going to take a while to come up with a new dream to surpass this one.