Agent Recommended

Baby Boomers

Culinary

Destination & Tours

Experiential Travel

Family Travel

Luxury

Off the Beaten Path

Romantic Travel

Travel Buzz
Exploring Russia
By Nicole Mazza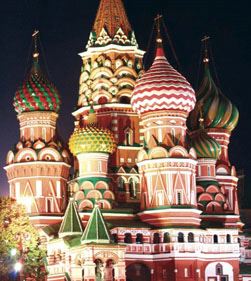 When one thinks of Russia, the large bustling cities of Moscow and St. Petersburg come to mind. There, you can experience historic sites, the arts, incredible shopping and fine dining. But, there is yet another side of Russia seldom explored… The villages and quaint towns along the Waterways of the Czars, such as Yaroslavl, Uglich and Goritzy, are hidden gems that can only be accessed via river cruise. Cultural discovery and delight await those who embark upon this magnificent journey. My husband Joe and I recently ventured through Russia's main cities and off-the-beaten-path regions over an unforgettable 13-day getaway on the Viking Surkov. It was a romantic journey full of wondrous experiences we will never forget.
TODAY'S MOSCOW
Today, the cityscape of Moscow is altogether different from its sullen past, with storefronts and buildings in an array of colors, vibrant billboards and flamboyant locals who have since learned to live on the wild side. Numerous casinos and after-hour clubs are scattered throughout, successfully luring in eager participants. With a population of now 13 million people, free trade is now alive and well in Russia!
SHOP 'TIL YOU DROP
We decided to take full advantage of Russia's bustling commerce for the first three landlocked days of our trip, and there was no shortage of fabulous locations to do so.  We visited many shopping havens, such as Evropeiskiy, a new mall opened in 2006 conveniently located next to Kievsky metro station, where we found lots of international brand-name shops. Others included GUM, a shopping area adjacent to Red Square with international labels and expensive boutiques; and Detskiy Mir, otherwise known as "Children's World," with lots of stores that sell toys, books, DVDs, and Peruvian souvenirs. Each had remarkable architecture.
Moscow Shopping Tips
Cash is king. Credit cards are becoming more widespread, but many cheaper stores and restaurants won't accept them.
Break your 5000 or 1000 RUB notes where you can. The smaller merchants, street vendors and metro clerks will likely refuse them.
While you are able to get some smaller vendors to accept US dollars and Euros, it is always best to change currency. Currency exchange spots are everywhere in the major cities.
SEEING MOSCOW'S SITES
When in Moscow, we hit some major landmarks before we embarked on our river cruise. Luckily, our itinerary was full of some of the most incredible must-sees the city had to offer. Here are just a few highlights:
RED SQUARE
This is the heart of Moscow and the first destination of most visitors. It is surrounded by St. Basil's Cathedral, the State History Museum, Lenin's Mausoleumand one of the Kremlin's long brick walls. All are worth visiting.
LENIN MAUSOLEUM
We walked past the embalmed body of Vladimir Lenin, who ironically did not want any monuments to be built for him, and joined the debate as to whether or not it was actually him.
THE KREMLIN
Moscow's famous red brick enclosure known as the Kremlin is a gigantic site that cannot be missed. The diamond collection in the Armory is worth a visit on its own.
GETTING AROUND
In Moscow, the difference between hailing a cab and hitchhiking is blurry. It's tradition for drivers to offer rides to strangers for a fee. In fact for many Russians, it's like a second job! Generally, wherever you are, at any time of day or night, you can get a "cab" in a matter of minutes. Central Moscow is best explored on foot, but since the distances are huge, visitors will most likely use the famous metro system. It is comprehensive, boasts some great architecture, is relatively cheap and open from5:30 am to 1 am.
 
SETTING SAIL ON THE VIKING SURKOV
On the fourth day of our trip, we had the morning free to further explore Moscow before our ship departed early afternoon. I thought perhaps we'd join one of our optional tours including one to Sergiev Posad, a quaint Golden Ring city (cities northeast of Moscow), but Joe had the great idea to explore all of the other docked river cruise ships. Departing for our scenic cruise along the Moscow Canal, we took the rest of the day to explore the ship, relax, recharge and enjoy the scenery, a delightful respite after a hectic few days.
UNDERGROUND ART
The most interesting metro stops in terms of decor are Komsomolskaya and Novoslobodskaya on the ring line, Kropotkinskaya on the red line, and Mayakovskaya on the green line. Watch out for the mosaics on the ceiling!
CLANDESTINE PORTS OF CALL
On day 5, we toured the provincial village of Uglich, a city in Russia's Golden Ring that originated in 937.We learned all about the Church of St. Dmitry on the Blood, built on the site where Ivan the Terrible's son Dmitry was mysteriously killed. On day 6,we arrived in Yaroslavl, another of the Golden Ring cities where the Church of St. Elijah the Prophet, featuring wonderful frescoes and icons, lies. There, we enjoyed a lovely choir performance. Afterward, we took some time to shop for handcrafted souvenirs at a market in town. Our tour guide informed us that Russian linens are produced in Yaroslavl, and are cheapest in the outdoor markets. We bought hand-painted napkin rings to match the lovely table cloth we acquired for special occasions.
On day 7, we arrived in Goritzy via the Volga-Baltic Waterway, a typical Russian village with the renowned Kirillo-Belozersky Monastery, founded by Saint Cyril in 1397.Our guided walk took us through the historic grounds, and we saw many small wooden chapels, the Assumption Cathedral and a museum. Although the monastery is the largest in Russia, much of it is off limits due to disrepair. On the morning of day 8, we cruised through the tranquil waters of Lake Onega, Europe's second-largest lake, and arrived late afternoon at the island village of Kizhi, an UNESCO World Heritage Site and home to the oldest wooden church in Russia, the Church of the Resurrection of Lazarus, built in the late 14th century. We set out on a walking tour through the Open Air Museum of Architecture and saw a range of wooden houses, windmills and churches representing ancient Russian architecture, highlighted by the famous three-tiered Preobranzhenskaya (Transfiguration) Church. This fairytale edifice was built in 1714 without a single nail! Instead, pieces of wood were notched together to form the intricate structures. On day 9,we spent a full day cruising across Russia's narrow waterways, such as the scenic Svir River, and the 139-mile "Blue Route" from Lake Onega through Lake Ladoga.
SEEING ST. PETERSBURG
On day 10, we arrived in beautiful St. Petersburg where we remained for the rest of our journey. This city is the former home of the Czars, center of Russian culture and known as "The Venice of the North" since it is built on canal systems. It is by far the most cosmopolitan of Russia's cities. Some tour highlights in St. Petersburg included: The Hermitage Museum/Winter Palace Saint Petersburg's prime attraction, a massive palace-turned-museum, shows an artwork collection of over 3,000,000 pieces spanning the globe. The Hermitage is truly one of the world's great museums, with an imposing setting displaying priceless works by Rembrandt, DaVinci, Michelangelo, Reubens and  more. We marveled at the vast collection of paintings, antiquities, jewelry and sculptures.  Catherine's Palace This rococo summer residence of the Russian Czars was named for Peter the Great's widow, Catherine I. We toured its various halls, including the Amber Room, and saw the ornate décor throughout.
Nevsky Prospect
Since souvenirs are cheaper in St. Petersburg than in Moscow, it was great that our trip ended there. Lined with department stores and fancy shops, it had everything from local trinkets to Nike wear.We enjoyed a stroll on the Prospect and then popped into one of the local cafés to people watch.
The Opera or Ballet
No trip to St. Petersburg is complete without seeing an opera or ballet performance. The Mariinsky is perhaps the most well known institution. We were lucky enough to see Swan Lake at the theater.