Agent Recommended

Baby Boomers

Culinary

Destination & Tours

Experiential Travel

Family Travel

Luxury

Off the Beaten Path

Romantic Travel

Travel Buzz
Say Aloha to Family Adventure
By Lindsay Blumenthal
The Hawaiian Islands have long been a hot spot for families looking to escape the everyday and head out for a fun-in-the-sun holiday. But, there's plenty more to this paradise in the Pacific than soaking up the sun's rays and lazing the day away on world-class beaches.

Today's Hawaii is all about adventure.  And, why not? Hawaii is a haven filled with endless possibilities for adventure-seeking families who want to get out there and really have fun. Lush rainforests, hidden waterfalls, rocky coastlines and underwater sanctuaries are the pieces to your personal adventure puzzle in paradise.  Whether by land, air or sea, Hawaii's great outdoor adventures are virtually limitless. From soaring high in the sky, to exploring the islands on foot and sinking deep below the ocean's surface, no matter which angle of adventure you choose to take, you'll soon discover that Hawaii is second to none when it comes to creating lasting memories—it's time to say "aloha" to adventure in Hawaii.
IN THE SKY

While there are many ways to explore each island, few experiences will leave you and your family feeling on top of the world.  How about taking family bonding to new heights when you take to the skies on a helicopter tour of the island? Discovering the hidden secrets and encountering the exotic locations that can only be seen from the air will surely be the highlight of your Hawaiian vacation. From remote rainforests and unseen caves to vast pineapple fields, a helicopter tour gives you a "birds-eye view" of the islands' most scenic spots.


Each island offers its own unique adventure unlike any other.  You'll hover right next to Maui's majestic Haleakala Crater and get close enough to see the fiery sights of the Kilauea Volcano on the Big Island (maybe even be lucky enough to see some real lava flows). Don't forget, the flights are fully narrated by knowledgeable pilots and usually videotaped so you can relive the experience after you've come down.  Perhaps your family is one that prefers an aerial tour that's a bit more adrenaline-raising? Maybe strapping on a parachute, soaring up to 800 feet above the sun-kissed coastline and being suspended in mid-air is more your style? Take one of the kids up with you on a tandem ride and experience this once-in-a-lifetime adventure side by side. Some rides even have an optional free fall, if you dare.


ON FOOT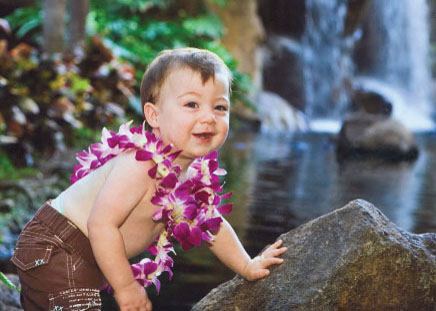 There may be no better way to capture the true Aloha Spirit than by setting out on foot and getting up-close-and-personal with the lay of the land.  And, if you spend your time on Oahu you will certainly want to visit one of its most recognized icons, Waikiki's famous crater, Diamond Head.  It's only a one-hour hike up the side of this now extinct volcano, and well worth the trip. Hawaii is all about scenic views, and this is indeed the "granddaddy." It's hard to find a more spectacular 360-degree panoramic view of the city of Honolulu and the Waikiki Beach area than the one from the 760-foot summit of Diamond Head.  Now, imagine peering into an active volcano, then climbing a 13,000-foot mountain, and carefully cat-walking atop cliffs that plummet into a deep blue sea below. It's all in a day's play at Hawaii Volcanoes National Park on the "Big Island."  The altitude in the park ranges from sea level to the summit of the earth's most massive volcano, 13,677-foot Mauna Loa. Kilauea, the world's most active volcano, offers visitors views of dramatic volcanic landscapes.


UNDER THE SEA

If you think an aerial or land-based tour of Hawaii provides spectacular scenery, you might want to also consider diving in and taking in the views just below the ocean's surface. A day spent snorkeling or scuba diving should definitely rank high on your roster of activities.  After all, they are the most popular outdoor activities the Aloha State has to offer those in search of adventure.

Clear waters off the coast of Hawaii make for some of the best marine conditions anywhere on earth. So, grab your flippers and face masks because it's time to glide along gentle currents, swimming through schools of brilliantly colored tropical fish, exploring exotic coral reef beds, twisting and turning through caves and caverns.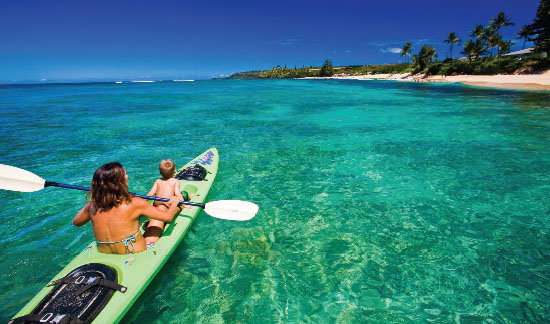 The "Big Island" is consistently rated the world's number one dive destination, and best for beginner divers with unbeatable shallow water snorkeling.  Waikiki and the North Shore of Oahu boast some of the state's most well-known spots.  The island of Lanai is renowned as one of the world's premier destinations and Molokini Inlet, off the shores of Maui, has crystalline waters and an abundant sea life. And, with dive shops and operators located throughout the archipelago, you'll be sure to find all the equipment you need and the certification necessary to dive right in.

Another great way to get a look at Hawaii's underwater universe, without getting wet, is by plunging to the bottom of the ocean floor in a submarine.  You'll not only be face-to-face with the friendly denizen but have a rare chance to have a close-up of a coral reef and investigate sunken shipwrecks.

If you need help planning your family's picture-perfect adventure to the Islands of Aloha, consult your dedicated TRAVELSAVERS travel agent for exclusive promotions, discount offers and personal recommendations. Plus, add in some island-hopping deals and it's easier than ever to explore the entire state with the entire crew. There's a world of adventure awaiting you and your family in Hawaii...go for it!