Agent Recommended

Baby Boomers

Culinary

Destination & Tours

Experiential Travel

Family Travel

Luxury

Off the Beaten Path

Romantic Travel

Travel Buzz
Great Beer Festivals of the World
By Matthew Schroeder
"The mouth of a perfectly contented man is filled with beer." — ANCIENT EGYPTIAN PROVERB —
Na zdraví, gan bei, prost…
—no matter how you say "cheers," the timeless tradition of raising a glass and celebrating life's important moments stretches clear across the globe.  Though for most of us, the end of a hard day's work is reason enough to sit back, relax and crack open a cold beer any night of the week.
As with food, beer styles widely vary among countries and are often just as exciting and compelling as the exotic locations where they're made. From malty sweet, well-hopped pilsners and fruity labics, to wheaty hefeweizens and intense barley wine ales, today's world-class ales and lagers exhibit the complexities and nuances of fine wines and can be paired with foods in much the same way. Forget all the bland, watery, insipid beers you may have guzzled (and later regretted) during college. Brewers from the U.S. and Canada to Belgium and China—and virtually everywhere in between — are creating full-flavored mouth-watering brews that deserve attention.  While our languages and cultures may be different, our shared adoration for this liquid perfection is certainly worth celebrating.  And as the saying goes...where there's beer, there's bound to be a party. So if you love beer and discovering fascinating new destinations, then join us as we raise a glass (or two) to the Great Beer Festivals of the World!

CZECH BEER FESTIVAL--Prague, Czech Republic
Czech beer is world famous.  This shouldn't come as a surprise since the country has a long and important brewing history. Just as impressive, the Czech Republic is the number one beer drinking nation on the planet annually consuming some 157 liters per person.  Beer is served nearly everywhere in Prague for two reasons: it's incredibly good and is inexpensively priced here when compared to other beer devout cities.  Most Czech beers are pilsners, a type of pale lager beer that originates from the Czech city of Pilsen.  The history of beer in the Czech Republic dates back as early as 859A.D.when hops (an essential ingredient used in beer for the pleasant bitter and citrus flavor it imparts) were first cultivated in the Bohemian countryside. Bohemian hops have been so highly prized in the country's history that King Wenceslas ordered the death penalty for anyone caught exporting the cuttings, from which new plants could be grown.  While the country has numerous festivals that honor and celebrate its beer heritage, none is as grand as the Czech Beer Festival in Prague.  Hailed as the greatest gastronomic event in the country, the Czech Beer Festival is held during the last two weeks in May and showcases just how serious the Czechs take their beers — and food. Pair this with the surroundings of one of the most beautiful cities in all of Europe and you have the makings of a truly breathtaking festival. The large event showcases the very best offerings from Czech breweries, chefs, butchers and bakers. Nearly 10,000 beer devotees descend upon the event to taste more than 50 brands of Czech beer from both micro-brewers and the nation's larger ones. Nearly 300 servers dressed in the country's national costumes take care of thirsty festival goers in eight large-scale tents, each with its own colorful entertainment programs. Top chefs from the city's best restaurants are also on hand offering a spectacular range of regional and international culinary delights.
Great American Beer Festival--Denver, Colorado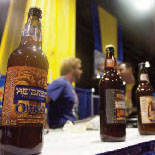 The glorious—and at times scandalous—history of beer in America can be traced as far back as the late 16th century when a Virginia colonist began brewing ale using corn. Skip ahead nearly four-and a- half centuries and you'll find that Americans love their beer as much (or more) than any other beer-centric nation. Ever since the end of Prohibition in 1933, brewers across the United States have succeeded in creating one of the most strikingly diverse beer landscapes found anywhere in the world.  From Maine to California, Washington to Florida, and nearly every large city in between, brewers everywhere are experimenting and pushing the limits of taste by creating dazzling new beers.  While large, corporately owned breweries have dominated the American beer market for many years, smaller craft brewers are proving themselves extraordinarily well by developing unique offerings that demand attention. In fact, you just might say that the U.S. is experiencing a great "beer renaissance" that shows absolutely no signs of slowing down. 
To get a taste of some of today's acclaimed beers, a trip to the Great American Beer Festival in Denver, Colorado is a must.  Considered by both connoisseurs and brewers to be one of the most prominent beer festivals and competitions in the country, the Great American Beer Festival brings together over 100 judges to taste more than 1,600 different American-crafted beers and award those which epitomize their particular style best. Held September 16th – 18th, the festival allows enthusiasts to sample some of the finest beers in the world while offering multiple opportunities to learn about all things beer.  Gold, silver and bronze medals are awarded in 69 beer-style categories, and visitors can sample the beers just like the judges.  Attendees can even take time to explore the world of beer and food by attending the Great American Beer School.  Attendees can also sign up to learn more about how their favorite brews are created, and understand what judges
look for when evaluating beers. 
Great British Beer Festival--London, England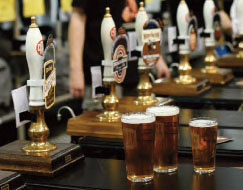 If you have plans to travel across the pond to London during the first week in August, don't miss out on attending the Great British Beer Festival.  Held August 3rd – 7th at Earls Court, the Great British Beer Festival is Britain's biggest, best, and most influential beer gathering. The festival brings together a wide range of real ales, ciders, perries and international beers along with plenty of traditional food, live music, and tutored beer tastings.  During the 2009 festival alone, over 64,000 fortunate attendees sampled over 500 different beers, ciders, golden ales, fruit beers, stouts, bitters and international beers here. But the Great British Beer Festival is much more than just beer.  The 2010 festival will also feature an array of traditional pub games including Table Skittles, Shut the Box, Roll the Barrel, Table Football and Tombolas where the lucky winners can earn bottles of beer, t-shirts, books and much more.  No worries if you don't know how to play, instructors will be on hand to teach you the rules.  As well, breweriana auctions will be held during many of the sessions where you can bid for all sorts of brewery related memorabilia. In addition to the stellar line-up of British beers on hand at the festival, the event will feature Bières Sans Frontières (Beers Without Borders) bars that provide a showcase for the best beers from around the world, including beers from Germany, Belgium, Italy, the Czech Republic and the Netherlands.  If you want to learn to taste like an expert, make sure to sign up for one of the festival's tutored tastings such as "Champion Beers of Britain" or "Real Ale in a Bottle." The Great British Beer Festival retains strict standards for those beers and beverages featured here and is supported and promoted by the country's independent, voluntary consumer organization CAMRA —Campaign for Real Ale. If you plan on traveling with children under the age of 18, no problem. CAMRA welcomes families and provides a "Family Room" with unparalleled views of the festival.  Here you will find children's entertainers, video games, toys and table football, along with soft drinks, snacks and sweets. Entry is free for all under 18 to the Family Room.
Qingdao International Beer Festival--Qingdao, China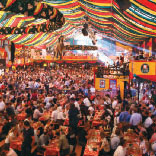 China may not be the first country that comes to mind when thinking about beer, but that's quickly changing given the country's exploding economy and recent exposure as host of the 2008 Summer Olympics.  But the truth is, China does hold a colorful history with beer.  Take for instance the coastal city of Qindao (better known as Tsingtao to Westerners). Located in China's eastern coastal Shandong province, Qingdao hosts Asia's largest beer festival each year during the last two weeks of August.  At this time, Qingdao becomes a haven for all things beer as the city welcomes international breweries from all over the globe to its laid-back sandy shores.  Whether you're a serious connoisseur or just a casual enthusiast, you'll taste and experience both the very best of Chinese hospitality and its beer drinking culture here. Since first held in 1991, the festival has become one of China's most important, achieving a worldwide reputation among beer lovers as one of the top festivals in the world.  Held each year during the second half of August, the festival provides a spectacular opportunity to experience countless international beers in a very special setting.  The event begins with a grand opening ceremony, followed by beer tasting, evening entertainment, drinking competitions, and concludes with a themed ceremony. Along with ample amounts of beer, attendees can indulge in both Chinese and Western fare.  And if that's not enough, the beautiful Shilaoren beach is just a 10-minute walk away.
Oktoberfest--Munich, Germany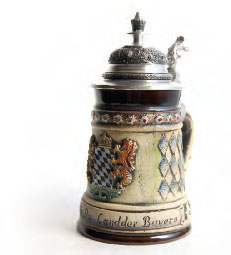 For many beer aficionados, one word above all others represents beer and the epitome of beer culture above all other — Oktoberfest. O.K., so Germany may not have invented beer, but many may argue that it certainly did perfect it. Since the 16th century there have been strong regulations about brewing beer and how to keep up the high quality of the final product by choosing the ingredients very carefully.  One of the oldest laws concerning food and drink are the Bavarian Purity Requirements, decreed by Duke William IV in 1516: Only water, hops and barley should be used to brew Bavarian beer.  What began in Munich, Germany as a national holiday in 1810 to commemorate the marriage of Crown Prince Ludwig and Princess Therese of Saxe-Hildburghausen has evolved into an international commemoration now celebrated from Brazil and the United States, to Australia and Hong Kong and many other countries in between.  Of course if you're searching for the ultimate Oktoberfest celebration, look no further than the granddaddy of them all, the Munich Oktoberfest.  Taking place on the third Saturday in September and running through early October, Oktoberfest is billed as largest fair in the world, bringing together nearly six-and-a-half million visitors to the Theresienwiese event grounds.  With 14 massive "tents" and 18 smaller ones serving only the finest Bavarian beers and foods like schnitzels, dumplings, cheeses, roasted chicken, oxen dishes and sweet deserts, first-time festival goers are likely to find themselves a little overwhelmed with dining options.  While beer, food and fun are the apparent focus at Oktoberfest there are a myriad of other diversions like rides and shopping to keep the entire family happy. Remember, Oktoberfest is a family event and there is a great deal of fun to keep the little ones happy. But if you want the full Oktoberfest experience as the locals would have it, don't miss out on enjoying a liter of beer in one of the larger tents such as the Das Wiesnzelt am Stiglmaierplatz tent, Hacker-Festzel tent, and Augustiner-Festhalle tent. Oh, and entrance to Oktoberfest is free!