Agent Recommended

Baby Boomers

Culinary

Destination & Tours

Experiential Travel

Family Travel

Luxury

Off the Beaten Path

Romantic Travel

Travel Buzz
Transcendent Toronto
Home to 4.7 million of the friendliest people you'll ever meet, Toronto is not only one of Canada's best kept secrets, but is perhaps one of North America's most likable cities. Right on par with other water-front metropolises like New York City, San Francisco and Chicago when it comes to great attractions, spectacular restaurants, premier museums, and pristine parks, English-speaking Toronto is far too big, beautiful, and diverse to allow for a single defining personality. Make no mistake; Toronto is a fantastic weekend destination for couples seeking romance, as well as for families in search of a wide-range of kid-friendly activities. Best of all, the city is easily manageable whether you're navigating its urban terrain on foot, by car or public transportation.
Take it to the Top
The most logical place to begin a tour of Toronto is downtown — and for first-time visitors, there's simply no better place to start out than at the landmark CN Tower. One of the modern Seven Wonders of the World and an all-important communications hub, the CN Tower is the world's tallest freestanding structure at 1,815 feet and is one of Toronto's most visited attractions. Take the glass-fronted elevator to the tower's circular observation deck and you'll experience one of the most unforgettable and jaw-dropping views. Purchase your tickets online to avoid the box office line and arrive before 11 a.m. or after 5 p.m. when the Tower isn't as busy.
Culture & Couture
A vibrant and eclectic creative spirit thrives in cosmopolitan Toronto. From renowned festivals and events, to museums and spaces celebrating the arts, theatre and the region's heritage, a visit to the city isn't complete without visiting at least a few of its outstanding museums.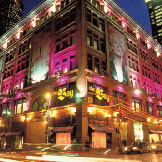 Unexpected treasures like the Bata Shoe Museum and the Gardiner Museum (devoted to ceramic art) will pleasantly surprise you, while world-class wonders like the Royal Ontario Museum (one of the world's leading museums of natural history and world cultures) and the Art Gallery of Ontario will live up to your highest expectations. As well, if you're a history and architecture buff or just prefer outright opulence and extravagance, the historic Casa Loma deserves exploring.  Built by wealthy Toronto businessman Sir Henry Pellatt in the early 20th century, Casa Loma dramatically overlooks the city and was used as a shooting location for the 2002 film Chicago.
From cosmopolitan chic to country charm, Toronto's neighborhoods offer an eclectic mix of architecture, cuisine and shopping. Areas like Kensington Market, Yorkville, Queen West — and many other distinct neighborhoods — offer loads of cultural and shopping opportunities that will further introduce you to this lively and inspiring city. Queen Street, often compared to New York City's Soho neighborhood, is the place to go for trendy dining and nightlife, as well as for cutting-edge fashion, art galleries, antique shops and bookstores. The Yorkville neighborhood is another great area for shopa-holics. Formerly populated by Bohemians and hippies, Yorkville has more recently become a gentrified neighborhood containing a variety of posh stores and one-of-a-kind boutiques.
Head Underground
If you're traversing downtown Toronto and need to escape the summer heat, winter chill or any other unexpected weather, head immediately underground to the city's meandering PATH. Linking an astounding 17 miles of shopping, entertainment, and public transportation services throughout the downtown area, the city's subterranean PATH connects more than 50 buildings and office towers.
20 parking garages, five subway stations, two major department stores, six major hotels, and a railway terminal are linked through this extensive network. If that's not enough convenience for you, PATH provides connections to many of the city's major attractions like the Hockey Hall of Fame, Roy Thomson Hall, Air Canada Centre, Rogers Centre, and the CN Tower. According to Guinness World Records, PATH is the largest underground shopping complex with 4 million square feet of retail space — which also happens to host the world's largest underground sidewalk sale once a year.
Eat it Up!
As the multi-cultural capitol of Canada, Toronto is absolutely loaded with an array of smart cafés and out-of-this-world restaurants offering some of the most inspired culinary experiences. From low-priced informal neighborhood joints to lavish upscale establishments, menus typically emphasize the freshest Canadian ingredients — particularly fish and wild game. A hamburger, fries (gravy a preferred condiment here) and salad is the quintessential Toronto dish, but if there's a specific cuisine you're in search of, you'll certainly find it here. Along with a Greek town, India town and two Chinatowns, Toronto also has large Portuguese, Spanish and Italian areas — making for one incredibly diverse dining scene.
With a climate very similar to that of New York City, deciding when to visit Toronto all depends on whether you prefer summer temperatures over winter sports. The city happens to be at its liveliest in late spring through early fall. During this time you'll find numerous outdoor concerts and festivals, and experience al fresco dining at its finest. The mercury can often fall below freezing from late November into March, and in January and February the temperatures can be down right brutal. However, the off-season months do offer a reprieve in the form of lower hotel prices — some properties are known for dropping prices by upwards of 50% — a fact that attracts countless skiing and skating enthusiasts.