Agent Recommended

Baby Boomers

Culinary

Destination & Tours

Experiential Travel

Family Travel

Luxury

Off the Beaten Path

Romantic Travel

Travel Buzz
The Good Times Roll On In the Big Easy
By Matthew Schroeder
Famed for its offbeat character and unconventional treasures, New Orleans squeezes in more history, culture and nightlife than most cities double its size. If you've never experienced the big easy, now is the perfect time to LAISSEZ LES BONS TEMPS ROULER (let the good times roll). Loaded with fine restaurants, shops, museums and historic neighborhoods, you'll find this city to be UNLIKE any other. Here are a few of our big easy favorites...
LeVieux Carré
Le Vieux Carré, better known as the French Quarter, is the cultural hub of New Orleans.  This expansive, yet intimate neighborhood is the city's oldest.  Here you can find a mix of Spanish, French, Creole and American architectural styles that are adorned with cast iron balconies.  A registered National Historic Landmark, the area comprises some of the city's most beloved sites like Jackson Square, Saint Louis Cathedral and nearby Bourbon Street.
If everything you've heard about Bourbon Street revolves around booze, beads, and bawdy sensual delights, then discover for yourself the street's many sophisticated restaurants, historic luxury hotels, and specialty shops.  The Bourbon Street locale also offers a fantastic collection of live music venues. Be sure to check out some of the city's best live jazz at Preservation Hall on St. Peter Street.  This very special venue hosts New Orleans jazz nearly every night of the year.  Admission is only $10.00 per person and all ages are welcome.
Beignets & Muffuletta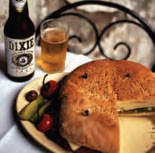 No matter where you're at in New Orleans, you're never far from great food—in fact, there are now more restaurants in the city than existed pre-Katrina.  While some of the region's traditional foods like gumbo, jambalaya, and etouffee are already known to most outsiders, your trip won't be complete without grabbing some beignets and muffuletta as well.
Your best bet for beignets—French style deep-fried donuts drowned in confectioner's sugar — is at Café du Monde on Decatur Street in the French Quarter.  Also known for its New Orlean's style cafe au laits (New Orleanians like their coffee blended with chicory),Café du Monde is a pillar and cultural jewel of the city.  The cafe, popular with both locals and visitors, is open 24-hours and provides fabulous people watching in the early morning hours.
For muffuletta, a regional sandwich made with layers of capicola, salami, mortadella, emmetaler, provolone, and topped with a marinated olive salad served on a massive, round Sicilian loaf bread, Central Grocery is hard to beat.  This small Italian-American grocery is steeped in old world ambiance and quickly fills with devout patrons during weekday lunch hours.  To truly enjoy this special Big Easy staple, pick up a sandwich and head on down to Jackson Square and chow down there.
The Mighty Mississippi
Few rivers can match the power and grace of the mighty Mississippi River. But to truly understand the beauty and importance of this magnificent river, be sure to take a leisurely stroll down the river walk.  A great place to start is directly across from Jackson Square where you'll likely hear street musicians playing traditional New Orleans style jazz. On any day of the week you'll find plenty of river activity as massive tanker ships slowly make their way up and down stream. There are many pocket parks, benches and shady areas along the way for you relax and enjoy the Big Easy's slower pace of life.