Agent Recommended

Baby Boomers

Culinary

Destination & Tours

Experiential Travel

Family Travel

Luxury

Off the Beaten Path

Romantic Travel

Time to Thrive
Taken by Turkiye
By Malia Vrooman
Türkiye– better known as Turkey to most by Westerners—has always fascinated me with its epic history and vibrant culture.  One of the oldest continuously inhabited regions in the world, this dramatic landscape of traditional charm and modern conveniences provides a spectacular travel experience.
Being that this was my first escorted tour through Turkey, I was especially excited about having the chance to experience many of the sights that also make it a land of timeless beauty. Joining me on this trip was my Aunt Mary, who like me, has shared interest in exploring Turkey's many unique wonders.

Where the Modern World Meets Old World Tradition
Our adventure began with a lengthy, yet very comfortable flight aboard Turkish Air.  Onboard, we enjoyed plenty of entertainment and several meals before arriving at Istanbul Ataturk Airport where our waiting bus transfer escorted us to our hotel.
During the ride to the hotel we passed large ships and fishing boats along the picturesque Sea of Marmara.  As we neared Istanbul, its imposing stone walls seem to climb towards the sky right before our eyes. Built by Byzantine Emperor, Theodosius II (408-450 A.D.), these massive walls surround much of the city and were originally constructed to protect it from invaders.
Today, Istanbul retains its dazzling maze of narrow streets with traditional storefronts and street vendors selling vibrant clothing, jewelry, produce, and nearly anything else you can imagine. Shopping is clearly a national sport throughout all of Turkey and visitors will discover countless bargaining opportunities to land the perfect souvenir.
Having arrived at our hotel after an exciting ride from the airport, we settled in to our room.  Later that evening we would gather with our tour group to meet our charismatic and knowledgeable guide, Charlie, to go over the details of our upcoming adventure.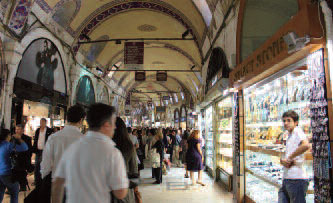 Ancient History and Breathtaking Architecture
We began our first full day of the tour bright and early at the Ministry of Justice and the Blue Mosque.  At the Ministry of Justice we saw a lovely fountain that was given to the Turkish people from Germany. This gift was highly regarded as the weather in the city can be quite warm and the fountain would provide cool water for generations.  Afterwards, we viewed a 3,000 year old obelisk—a tall, narrow, four-sided, tapered monument ending in a pyramid-like shape at the top — that was a gift of the Egyptian government.
From there we visited the Blue Mosque, built by Sultan Ahmet I in the early 1600s and named for the beautiful blue hand-painted tiles lining its interior.  Although it is an active mosque, closing for prayer five times a day, the building is open to the public the remainder of the time.  The Blue Mosque is unique not only for the large scale of its dome, but for its impressive six minarets that set it apart from others (many are constructed with only one or two minarets).
Our next stop was at Topkapi Palace, which served as the primary residence of the Ottoman Sultans for nearly 400 years until 1856.  Comprised of various buildings, beautiful courtyards, pavilions and gardens overlooking the Bosphorus strait, Topkapi Palace was once the setting for state occasions and royal entertainments.  Now a major tourist attraction and UNESCOWorld Heritage Site, the palace remains one of the best examples of its kind from the Ottoman period. Here each building we visited was ornately decorated with mosaics, hand-painted tiles and gold leaf embellishments.
Continuing on, we toured the Hagia Sophia which originally acted as a Christian basilica from 380A.D and was later turned into a mosque, and is now a museum.  What struck me most about this site were the large figurative mosaics depicting Christian saints, as well as Jesus and the Virgin Mary.  When the church was converted to a mosque in 1453, these mosaics were hidden behind plaster walls out of respect, rather than being destroyed.  Hiding the mosaics in turn preserved them and the building's interior now reflects an impressive mix of Christian and Islamic history.
For our final destination of the day, we visited the Grand Bazaar. Just as the name implies, this giant marketplace is a bargain hunter's delight. No matter what you're looking for, you can find it here at a great price, if you don't mind a little bargaining—in fact, many vendors expect it.  Aunt Mary and I, although exhausted by now, scored some great souvenirs.
Besieged by History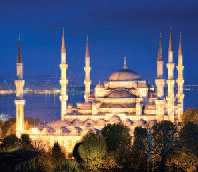 Our tour continued the next day to the Gallipoli Peninsula, site of one of the worst battles of World War I.  Our tour group included families from New Zealand and Australia who were particularly struck by the site. Preserved here are the trenches where men once fought, as well as a museum and memorial that commemorate the fallen soldiers.
The following two days included a whirlwind of visits to ancient cities.  We first traveled to the famous city of Troy, where we were greeted with a full-sized replica of the Greek's Trojan Horse.  Here we walked along the streets imagining Achilles celebrating his victory. Over the course of 3,000 years, Troy underwent nine rebuilding phases and ruins from each period of its history can be seen here.
After a long scenic drive, the next stop on our list was Pergamum, home to the Altar of Zeus.  Here we walked through the remains of the second largest library said to have housed 125,000 volumes.  We also saw a large amphitheater built into the mountainside that was large enough to hold over 10,000 people.  Among the many ruins in ancient Pergamum, the temple is a magnificent example of Greek architecture with tall Corinthian columns and elegantly carved statues.
In need of some relaxation, our journey moved on to the city of Kusadasi and a lovely resort along the Aegean Sea.  While succumbing to the calming sea breezes, we indulged in delicious food—fruits and vegetables from the rich soil of local farms and unbelievably flaky desserts such as baklava, which were soaked in honey and sprinkled liberally with pistachios.  Overall, Turkish food is a delectable fusion of Asian, Middle Eastern, and Balkan cuisine.
Experiencing Turkish Culture and its Past
Having enjoyed plenty of relaxation, we ventured out on our fifth day of the tour to a traditional carpet factory. At the factory we were able to see how a carpet's intricate designs, which are painstakingly woven by hand, get brought to life.  Traditional Turkish culture is intimately linked to rug making and the art is still revered today. Even with highly-skilled artisans overseeing the process, a single rug can take 8-12 months to complete.
Afterwards, we visited the most impressive ancient city yet—Ephesus.  With only 25-percent of the site currently excavated, we walked on the marble roadways that remain intact, and through many of shops that once filled this bustling city.  The façade of the library continues to stand at about four stories high, with carved signs, full-sized statues representing the four virtues, and a large courtyard out front.  Throughout Ephesus you can hear the echoes of those who once walked and gathered in the streets here nearly two thousand years ago.
Also located here is the cottage of the Virgin Mary. For my Aunt Mary and me this was a real highlight of our trip.  While very small, the house and grounds are lovely and peaceful.  Outside the cottage there is a wall where people leave prayers, and three natural fountains that are said to possess the powers of health, happiness and fortune.  Of course, we splashed in all three and hoped for the best.
The following day we headed to Pamukkale, an area known for its natural hot springs and rich mineral deposits.  The springs bring up mineral deposits to the surface, leaving mineral flats of white lime cascades that look like snow and ice. People travel from all over the world to bathe in the natural springs because the minerals are said to have soothing and healing powers.
Our trip ended in Antalya on the Mediterranean coast. Here we decided to take part in an optional yacht cruise along the coast. It was my favorite part of the trip and a great finale to our week of history and adventure. The cruise took us out to see an amazing waterfall that fell with such force that the spray created a rainbow.
From the hustle and bustle of Istanbul, to the ancient city streets and laid back atmosphere of Antalya, Turkey is as diverse as it is welcoming. Our wonderful tour group and inspiring guide helped make it an experience to remember!