Agent Recommended

Baby Boomers

Culinary

Destination & Tours

Experiential Travel

Family Travel

Luxury

Off the Beaten Path

Romantic Travel

Travel Buzz
Searching for Santa...at Finland's Artic Circle
By John Hilferty
Rovaniemi, Finland. What did we know about this place?
Finland is the country always named last in a Scandinavian geography quiz; it's somewhere above the Baltic Sea, to the right of Norway and Sweden, to the left of Russia. Our final destination, the Arctic Circle, was even more obscure.  We expected igloos, frigid cold, perpetual night in a land of reindeer, wolves and bears, of snow frost and myths.  Lapland, an even larger myth, is 40,000 square miles of the Arctic, the least inhabited place on earth. We wanted to know how and especially why, would a half million travelers a year, mostly children on 120 charter flights, come to this remote region in search of the biggest myth of them all: Santa Claus.
After a one-hour flight, our plane from Helsinki landed at Rovaniemi Airport in mid-afternoon. The sun was setting in a gorgeous, nearly crimson sky, casting a pink light upon the snow-covered landscape of conifer and birch.
No sign of Santa.  Neither St. Nick, Kris Kringle nor Father Christmas, but as we approached this city of 35,000, rebuilt from the ruins of World War II, the trimmings of Christmas began to appear in strings of white lights, of red and green trim, of real snow draped on evergreens, and beautifully lit sculptures made of blue ice.
And in the city, to what to our wondering eyes should appear but...two dozen hotels, a railroad station, bus terminal, taxis and rental cars, a bustling main street with an underground mall, health center, police station, post office, library, town hall, a hospital, churches, museums, and a university attended by 3,000 students.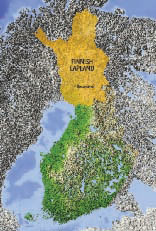 There is also a factory that makes snowmobiles, but by far the biggest engine that powers the economy in this frosty land of Northern Lights is the jolly, fat red elf who sits daily in a theme-park complex just outside of town.
Consider Orlando and Disney World at the North Pole. Entering the Santa Park beneath a Golden Arch, children ride by miniature train, mouths agape into Santa's Cave, surrounded by active elves, making and repairing toys, baking gingerbread, and mending and weaving clothes.  Children from many nations were enjoying amusement park rides-a helicopter, Santa's Sleigh and reindeer. They were jumping, laughing and tumbling in the Fun Tunnel, and dropping in on the Elf School, whose principal is none other than Santa himself.
Outside Santa's office, where elves answer an astounding 32,000 letters a day from children the world over, we came across seven-year-old Leanne Harris, visiting here from her home in Bath, England, with parents Paul and Loraine Harris. Leanne was sliding over and over down an ice-covered snow bank, just a few yards from the log building where Santa was interviewing his little visitors in a multiplicity of languages. "Coming here was a last-minute thing," said Paul. "We thought, we'll do it, because the little girl is seven and we thought we'd do it now since she's not going to be so interested in it in a few years. It's been pretty magical!"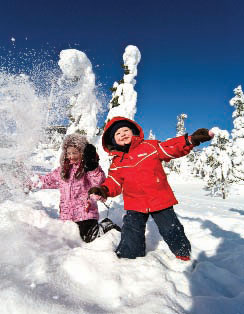 In addition to the Santa attraction, outdoor snow sports draw visitors from around the world. Lapland Safari takes guests on sled-dog rides and snowmobile journeys through the surrounding forests as well as visits to reindeer farms in the area tended by Sámi herdsmen dressed in bright red.
A brief ride from town, our motor coach dropped us off in the middle of a pine woods, where we were greeted, pardon the expression, by what seemed like catcalls, only yelping, yipping and yowling so loud and desperate, as to be a combination of mockery and let's-getto-it. The sled dogs treated us to a heart pounding swift ride on a snow-covered path to a conical-shaped log cabin. In the almost dark room, dimly lit by lanterns, we huddled around a huge fire and were served reindeer meat, tasty and tender, a milk-based vegetable soup and hearty hot grog.  On the ride back, you find yourself minding the 15-degree Fahrenheit temperatures.
During our too brief, week-long visit to Finland, which covered also the bustling capital of Helsinki and the former capital of Turku, near the southwestern coast facing Sweden, we saw a Finland that thrives, its citizens busy and focused.
Led by Nokia, the worldwide leader in cell phones, Finland ranks as the second most competitive nation on earth, following only the U.S.
But for all their industriousness and business savvy, Finns enjoy embellishing the mythical past, at least the happy times of Christmas, handing down tales of "you better be good" with emphasis on elves, goblins, gnomes, fairies and their legends.
While visiting Turku Castle, parts of which date back to 1280, we caught glimpses of a running figure as we were descending a narrow walled-in staircase.  As castle exteriors are concerned, Turku Castle's façade promotes somewhat of an unattractive warehouse image, but the dozens of rooms in its delightfully cheery interior are furnished historically, promoting a happy, lived-in look.  More sightings revealed a small, bent-over, gray-bearded figure darting in and out of doorways, until finally we cornered the Brownie (or Tomte in Scandinavian) of Turku Castle in his own tiny windowless room. Shy but friendly, he posed for photos and shook our hands, bestowing good fortune as we continued our tour of the city.
We were fortunate to be visiting during the annual St. Lucia celebration. Following the Scandinavian tradition of a procession of white-robed, fair-haired teenage girls, the smiling girl in the middle carefully balanced a ring of lit candles upon her blonde hair. She smiled and the crowd beamed back as a church choir joined the congregation in singing the Italian melody, "Santa Lucia." On this same night, we also attended a performance of the Turku Philharmonic, playing Beethoven, followed by a visit with several other concert goers to a quirky pub called The Toilet, located in a small circular building which indeed once served the residents of Turku as a needed facility.  Sparkling clean and serving a light food menu, The Toilet attracts well-dressed clientele, some of whom hoist beer from chamber pots.  We were lucky enough to meet the loquacious and smiling owner, Markku Heikkilä, who implored, "When you come to Turku, there are two things to remember: One is to drink a lot, and the second is to go to the Toilet often!"
Later, we strolled and shopped at an outdoor Christmas market on the grounds of the old cathedral. Merchants stood at brightly lit orange tents, selling every conceivable kind of Christmas trapping and gifts. In a corner of the plaza sat Santa, surrounded by teenage elves singing holiday carols. Another Santa, very thin but dressed in red with a gray beard, limped along supported by a cane.  He carried a notebook under his arm, would frequently stop in front of a small child, alternately smiling and appearing stern, and jot something down in his Behavior Book. Adults would grin, but some children looked on wide-eyed, petrified that they would get a bad report.
This was street theater, a slice of Finnish life that has passed through the ages, protected and embraced by perhaps some old-fashioned people looking for simple pleasures whose moral lessons last forever.
I recalled another theatrical the second night of our visit to Turku when the owner of a restaurant, asked, "Who would like dessert?" While we waited, the owner, named Matti Korva, began playing a haunting New Age melody on a kantele, a zitherlike instrument that he placed across his knees.  Our group of nine was alone in the darkly lit log cabin called a Santamus,a "restaurant for the senses," which can be reserved for corporate or private groups.
A "mountain stream" rippled over rocks in the middle of the room, while at another corner, a bluish fog appeared, combining with the music in a mood of wonder. From the ghostly fog, the prow of a wooden boat stealthily emerged, on unseen wheels, advancing slowly like a spectral from the past.  The distant sound of waves splashed on a shoreline.
What a way to deliver our chocolate mousse, on a unique "dessert tray" unmatched for inventiveness! Outside, gently falling snow was illuminated by tiny lights on trees, settling on the spruce trees and Santa's log cabin. It's a fanciful scene of tranquility and wonder, where children and adults alike find themselves saying "I believe!"