Agent Recommended

Baby Boomers

Culinary

Destination & Tours

Experiential Travel

Family Travel

Luxury

Off the Beaten Path

Romantic Travel

Travel Buzz
Rome to Venice
By Joni Dupille
Sailing the Greek Isles & Eastern Mediterranean
If coming home from vacation with three memory cards loaded with 2,364 photos isn't an indication of how wonderful a time we had - I'm not sure what is!
Having returned from a picture perfect Mediterranean cruise aboard Princess Cruise's Ruby Princess, my husband Dave and I are amazed when we look back at the many breathtaking sights we visited and friendly people we met on our voyage. From Rome and Venice, to Mykonos and
Corfu-and seven other stunning ports in between-our Mediterranean cruise was more spectacular and inspiring than we could have imagined. And the ship, with its great array of dining options, entertainment, attentive service and comfortable accommodations, only added to our experience which was nothing short of spectacular. Our travel agent did an incredible job at helping us plan and prepare for our 12- day cruise which would take us to 11 ports of call in four fascinating countries-Italy, Monaco, Turkey and Greece.
Setting Sail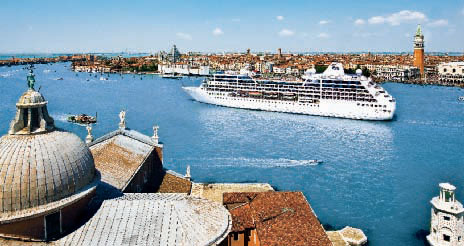 Our adventure began as our ship embarked from the harbor of Civitavecchia, gateway to Rome and a major cruise and ferry port. As we sailed out of port under the watchful guard of Forte Michelangelo (completed in 1535), we took time to settle in and explore our ship. Included onboard is a glitzy piazza-style atrium with eateries and performing street entertainers, fabulous dining venues, multiple entertainment options, the Lotus Spa, and nearly 900 staterooms with private balconies - perfect for enjoying the scenic Mediterranean. As well, the ship incorporates many Princess innovations, like "Movies Under the Stars" poolside theater and The Sanctuary, a private retreat just for adults.
Monte Carlo, Livorno and Naples
After a relaxing evening at sea, our first port of call the following morning was Monte Carlo, the capital city of Monaco. With its dramatic jet-set yacht basins, and enclave of castles and mansions perched high on a sun washed ledge above the blue waters of the Mediterranean, Monte Carlo is a dazzling jewel. Known throughout the world as a playground for the rich and famous, Monte Carlo is a glamorous city filled with elegant shops and restaurants, luxurious hotels and beach resorts, and chic casinos. Apart from its beautiful location and plentiful sites to visit, we found Monte Carlo to be the epitome of cleanliness and perfection.
Our next port of call, Livorno, brought us back to Italy for a picture-perfect shore excursion to Pisa and its famed Tower. Although Pisa seems rather small when compared to other cities in Italy, it was once the capital of a commercial republic and played a very important part in the First Crusade. The famous leaning Campanile or Bell Tower has drawn visitors to Pisa for centuries. Now inclined 14 feet to one side due to the settling of the subsoil, engineers have been hard at work shoring it up to prevent any further leaning. The top of the tower is said to be where Galileo conducted his famous gravitational experiments. Before leaving, I was able to get a classic shot of me holding up the Leaning Tower.
While Livorno offers many great excursions, I found Naples most interesting not only for its beauty, but for its many historical sites and museums. Located further down Italy's dramatic western coast, Naples has a very urban, artsy vibe similar to what you might find in New York. Art is everywhere and the culture here remains virtually frozen in time. During our stay we explored the Naples National Archeological Museum, one of the greatest collections of antiquities, mosaics, sculptures and art unearthed at Pompeii and Herculaneum - two ancient cities destroyed by the catastrophic eruption of Mt. Vesuvius in 79 A.D. Even though the collection was quite extensive, I must have documented nearly every artifact from Pompeii on display with my camera.
Santorini, Kusadasi, and Mykonos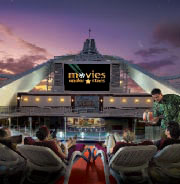 Though a part of us remained a little saddened to leave each awe inspiring port, we always looked forward to returning to our ship each evening. The Ruby Princess is endowed with many signature features and comforts that make it a pure pleasure for cruising the Mediterranean. With such unique innovations as Princess' "Movies Under the Stars" poolside theater, The Sanctuary (a private retreat for adults only), and a glittering piazza-style atrium with entertainers and an array of casual eateries, we had plenty of dining and entertainment options to enjoy back aboard ship.
After spending a thoroughly relaxing day at sea, day six of our sea odyssey found us pulling into port at the Greek island of Santorini. Referred to as the "Black Pearl of the Aegean," Santorini has one of the most dramatic backdrops of cliffs, sea and sky in the world-not to mention some fascinating black sand beaches. Our visit to the island included climbing 633 steps - while competing with a donkey super-highway-for an unforgettable and postcard worthy view of our ship and the white washed terraced homes, restaurants and hotels that cling to the island's rocky outcrops. It was without a doubt one of the most magnificent sights I've ever seen.
One of the best aspects of sailing the Mediterranean is that you have an extraordinary opportunity to visit so many memorable cities and historic sites without ever having to unpack. We were reminded of this with our daylong shore excursion to Ephesus, located a short ride from the Turkish port town of Kusadasi. Ephesus offers travelers one of the most fascinating archeological sites available -and with its ancient streets paved in white marble and lined with colonnades, it is something everyone should view in their lifetime. From the stately Library of Celsus and its carefully restored two-level façade, to the Odeon, which was used for public meetings of the city council, the precision of the buildings and sculpted artwork (some the size of pillars) makes it hard to believe that they were created centuries ago without the aid of computers, cranes or trucks. Even what appeared to be just a "junk pile" of puzzle-piece-shaped carved marble was artwork and certainly photo worthy.
Upon sailing back to Greece, we disembarked at the stunning island of Mykonos. Dotted with whitewashed houses, blue-domed churches, and beautiful beaches set against an equally striking blue sky, this dazzling island is filled with windy, narrow passageways (it's hard to call them streets) originally designed to confuse invaders or simply serve as a windbreak to deflect Aegean squalls. While on the island we explored the fish markets, saw colorful laundry (as if placed there for a movie set),met a feisty resident pelican, and found good buys on one-of a-kind gold jewelry, Greek handicrafts, and hand-painted reproductions of Byzantine icons.
Athens, Katakolon, Corfu, and Venice
Greece is a living, breathing museum-a collage of daring landscapes and sublime cultures. Here, as with much of Europe, ancient traditions inspire everything from art to cuisine. Our next three stops, each along the Greek coast, kept us quite busy as there was much we had hoped to see. In Athens, we marveled at the towering Acropolis and its astounding architecture; in Katakolon, we toured Olympia, one of the most important religious centers of ancient Greece and site of the original Olympic Games. However, it was the island of Corfu that we truly fell in love with as it has a rich history of being both invaded and redeveloped. With nook and cranny streets lined with Gothic, Renaissance, Spanish and Moroccan architecture (similar to those we would soon find in Venice), the island of Corfu is amélange of every corner of the Mediterranean - and that's what makes it so beautiful.
Our last night on board Ruby Princess was truly magical. We had made reservations at the ship's Italian supper club, Sabatini's. The restaurant is located on the aft portion of the ship and as we cruised up the Venice's Grand Canal surrounded by the incredible scenery, the ship's PA system Broadcasted Andrea Bocelli singing "Time to Say Goodbye." I'm sure there wasn't a dry eye on board as all 3,100 guests took to the decks to take in the experience.
The food, service, and entertainment onboard the ship were equally unforgettable. The staff was friendly and accommodating and having the balcony cabin on such a romantic voyage made this truly feel like the "Love Boat." Even with 11 ports of call, we still found the trip relaxing and pampering-we could do it all...or nothing! Personal choice dining was the right fit for us because we dined where we wanted and ate with new people all of the time---an excellent way to make lots of new friends.
We're ready for our next trip on Princess. While I'm leaning towards an Asian adventure, Dave wants to cruise South America. Maybe it's time for us to buy two cameras and many more memory cards!