Agent Recommended

Baby Boomers

Culinary

Destination & Tours

Experiential Travel

Family Travel

Luxury

Off the Beaten Path

Romantic Travel

Travel Buzz
Nepals "Little India" Offers Grand Experiences
By Kristin Lasater
Kindness abounds in Nepal, or "Little India," as it's fondly known. Its people are as impeccable, warm, all-encompassing and majestic as the scenery itself. I had the distinct pleasure of visiting Kathmandu, the capital and the largest metropolitan city of Nepal, and its surrounding cities for 14 days in November 2008 with my good friend, Robb. Traveling 46 hours from Tulsa, Oklahoma was worth every minute. 
Kathmandu is the perfect tourist spot, and the prices are dirt cheap by American standards.  It has a decent infrastructure, and the temples and artifacts are priceless. As its residents go about their daily routine, they take the time to express their joy at your arrival, anxious for you to experience their homeland. It's plain to see their culture and the religions of Hinduism and Buddhism are inextricably tied together.
Nepal Travel Tips
When visiting a new destination, always familiarize yourself with the climate prior to arrival, so you know how to pack.  Luckily, the weather in Nepal was gorgeous with cool, misty mornings and a high of around 70 degrees Fahrenheit each day, and at night it was in the brisk 40s. I took only one backpack and a small duffel bag, which were perfect.  Most places do not have ramps, so wheeled suitcases aren't very useful.
As a tourist of the female persuasion, I wore cargo pants and a t-shirt every day. Shorts are discouraged for both men and women, so I brought just three pairs of pants, t-shirts, hiking shoes, and Tevas (sandals). Be sure to dress in layers, as the temperature varies greatly from morning to evening.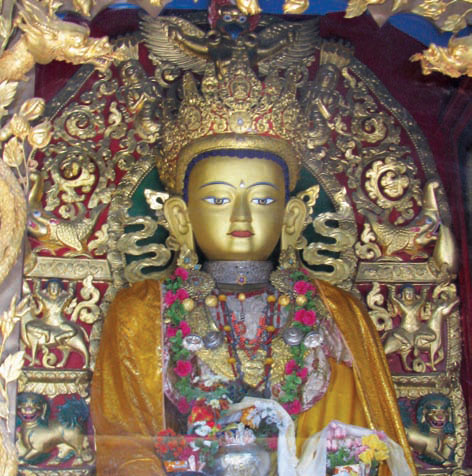 If something is left behind, there are plenty of bookstores and drugstores to stock up. There's no need for make-up and hairdryers, so leave them at home. Not having to primp was liberating, although my painted toenails were considered quite exotic by the locals. When touring, invaluable backpack items included wet wipes, bottled water, Immodium, a good jacket, and a sense of adventure!
Kathmandu is not a frightening place, but common sense is key. Always keep your passport and wallet in a side-zipped pocket and copies of all of your documents in a separate place. Leave copies with someone at home and register with the embassy before you leave, as I did.
Bountiful Low-Cost Lodgings
There are many upscale hotels to choose from, but since we didn't travel all the way to Nepal to watch TV and swim, we chose to stay away from name-brand hotels to truly immerse ourselves in the city and maintain the integrity of our experience in Thamel, the main locale in Kathmandu.
We stayed at the Hotel Potal (www.hotelpotala.com) for several nights in the heart of Thamel, run by a Nepali and Tibetan family. They offer laundry services, rooftop terrace, a bar and clean rooms for around $5-20 U.S. per night. There is an internet café in the lobby as well as newspapers and books. We were treated with warmth and courtesy. Although there is no official curfew, the main gate shuts at dusk and a beefy security guard stands watch. The power goes out for a few hours almost every night, but no worries. Most hotels supply candles and it's a great time to unwind. If you are at a restaurant and the power goes out, the generators crank up without missing a beat.
Eat and Drink on the Cheap
Robb and I truly enjoyed the food in Nepal. Each morning, we ate breakfast at our hotel on the rooftop terrace, which offered a perfect view of the famous Monkey Temple. There, we enjoyed delicious food of every kind at only $1-3 U.S. per person per meal.  Try the marsala tea and lemon soda for an authentic experience.
A wonderful variety of restaurants were under a five-minute walk from our hotel. On one occasion, we ate fish and chips at Café New Orleans in Kathmandu — now that's three levels of irony! We also enjoyed freshly prepared yak steak, wine and dessert and coffee for as little as $3. The locals were confused and humored when we thanked them after a purchase. To them, it was a fair and honest exchange. They would not even accept a tip!
We were very surprised and delighted by the variety of nightlife. There were live bands, fire pits with cozy seating, and great people watching opportunities. When the power goes out, they just keep sippin' delicious Mount Everest beer and rockin' on.
Kathmandu: A Shopper's Dream
Of course, shopping for souvenirs is a must.  Our shopping day began with our usual  rooftop terrace breakfast with  steaming marsala tea in hand, as we watched the shop owners prepare for the day. They meticulously hand-sweep the storefront sidewalk with a tiny broom. The distinct pride that comes from generations of families working together is obvious.
Once we hit the markets, we quickly realized that bartering is expected. Actually, it is almost an insult not to partake! The prices are comparable to the States with cashmere, and art, singing bowls, masks, puppets, prayer wheels and hundreds of statues of the gods. If you're looking for antiques, just remember that they cannot be taken out of the country.  Keep in mind that some currency exchanges will not let you trade Indian money for Nepalise, so it's best to get what you need from the airport in Kathmandu.
A Surplus of Culture
When we visited the Thamel district of Kathmandu, we were astounded by the overwhelming and never-ending sights and smells.  Beautiful women in brightly colored saris move gracefully among chaotic traffic and yelling street vendors. Children toss balls while darting through the crowds at break-neck speeds. Orange, red and green spices mix with the smell of burning cedar and incense. Dust is everywhere, but so are fresh, colorful flowers. This whole scene is accompanied by the sounds of Tibetan chants from the storefronts.
If you're looking for a festival, the Nepalise love to celebrate. In fact, we came upon festivals on a daily basis, with both men and women with flowers in their hair scattering banana leaves on the ground. Believe it or not, we also witnessed Hindu karaoke! Now that's one to tell the grandkids about someday…
As with any developing country, Nepal is humanity at its best and its worst with a caste system still in place. What Americans may consider sexist and discriminatory is the Nepalise way of life. They make no apologies, so make sure you pack acceptance along with your bottled water.
Namaste is the most common greeting for adults and children and never fails to illicit a smile and nod. We witnessed some of the most majestic scenery on Earth, but the most touching moments for me came when a child would simply bow his head, put his hands together and say  namaste, saluting the God within.
Straying from Kathmandu
We decided to switch gears entirely and take a harrowing 6-hour bus ride to a lakeside community named Pokhara, the perfect contrast to busy Kathmandu. Since it was too cold for river rafting, we went the tamer route and opted for paragliding instead. Upon arrival, we checked into the peaceful Hotel Snowland, and were happy with the clean rooms, hot shower and excellent service.
We signed up through Frontiers Paragliding (www.himalayan-paragliding.com) and the next morning, took a short van ride to the mountain peak. Robb and I then took a tandem flight off of Saranghot. Since I had never been paragliding before, I ran the wrong way upon takeoff! Even still, I would highly recommend this exhilarating, relaxing and thrilling experience. My pilot was calm and experienced and didn't even laugh too loudly at my mishap. With a picture and video in midflight, it was money well spent.
After our pulse rates slowed down, we took a canoe ride in Pokhara. The lake was glittering, the sun was hot and fresh on our faces and the breeze was gentle and cool. Plus, it offered a stunning view of the World Peace Pagoda.
There was even bustling nightlife to be had at this lakeside community. The Busy Bee club had live entertainment and an '80s band that had us laughing far into the night.
As a Tulsa, Oklahoma gal, I will never forget my trip to Nepal. My experiences there will stay with me forever. Between the warm people, the riveting sights, the unique places to see and fun things to do, it was like 100 "Trips of a Lifetime" rolled into one. Enjoy a wide spectrum of grand experiences in "Little India," and go see it for yourself!