Agent Recommended

Baby Boomers

Culinary

Destination & Tours

Experiential Travel

Family Travel

Luxury

Off the Beaten Path

Romantic Travel

Travel Buzz
Boutique Chic
Behind every incredible journey is a story waiting to be told. On your next vacation getaway, recapture the romance of travel at an unforgettable boutique hotel or resort and experience the fine art of hospitality and exceptional comfort all over again. Sophisticated, yet overflowing with irresistible charm and character, these intimate havens offer an endless list of plush amenities and personalized services to suit your every need and want. From cozy beachside retreats to sleek city escapes-and everything else in between-there's a boutique hotel and resort to fit your every mood no matter where you travel next. Here are a few of our favorites to help you on your way...
Encantado Resort & Spa • Santa Fe, New Mexico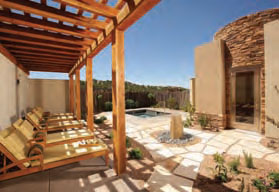 Tapping into the mystic energies for which the New Mexico desert is famous, Encantado Resort & Spa is an oasis of serenity for those seeking wellness and rejuvenation. Set on 57 acres against the foothills of the Sangre de Cristo Mountains and bearing stunning views of the Jemez Mountains and Rio Grande River and Valley, each of the resort's 65 elegantly designed casitas feature contemporary Santa Fe-style interiors that capture and honor the rich culture and history of this wonderful locale. Posh room amenities such as original artwork, wood burning fireplaces, private
terraces, and spacious baths with radiant heated flooring set a new precedent for Southwestern-style luxury. Encantado further indulges guests with a state-of-the art fitness facility, the divine Terra restaurant, and a signature spa that provides an assortment of regionally inspired treatments, massages, Ayurvedic rituals and traditional therapies.
Prince of Wales • Niagara-on-the-Lake, Ontario, Canada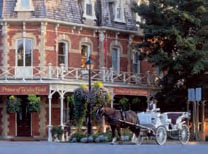 At the Prince of Wales, historic luxury lives on. Set in the historic heart of Niagara on- the-Lake, the intimate hotel received its name when King George V visited the establishment in 901. Today, the hotel continues to immerse guests in its regal atmosphere with each of its opulent 110 rooms and suites. Refined standards include handcrafted antiques, lavish brocades and tapestries, high-speed wireless Internet, and turndown service with roses placed atop beds every night. At the hotel's exclusive Secret Garden Spa, guests are decadently pampered with soothing and restorative therapeutic treatments ranging from signature tea-based treatments, to healing reflexology and the ancient ritual of aromatherapy. Equally resplendent is the hotel's fine dining offering, Escabèche. The restaurant includes a dynamic menu of classic English and French dishes inspired by seasonal ingredients and a premium selection of local Niagara-region wines.
Domaine des Remparts • Marrakech, Morocco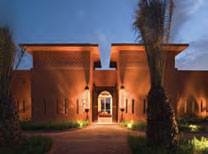 Experience the legendary beauty of Marrakech in sumptuous comfort at Domaine des Remparts Hotel and Spa. Nestled at the foot of the breathtaking High Atlas mountain range, this magnificent boutique hotel is a true haven of peace and tranquility. With its modern architecture taking inspiration from the spirit of the Berber ksars, Domaine des Remparts celebrates the allure of old-world Morocco with warm colors and exquisite accoutrements throughout each of its 32 Junior and Pavilion suites. All accommodations feature their own terrace, private garden, fireplace, plush bedroom, oversized bathroom and separate living room. Guests will be charmed by the hotel's plush amenities that include an expansive heated pool, two acclaimed restaurants, nearby golf courses, and spa offering a superb collection of treatments. Located close to many of Marrakech's famous sites and bustling markets, Domaine des Remparts is the perfect base from which to explore this timeless city.
Point Grace • Providenciales,Turks and Caicos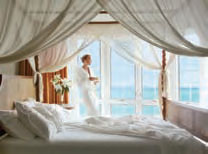 In a protected marine reserve on the island of Providenciales, Point Grace presents lavish boutique accommodations on one of the world's most beautiful beaches. Situated on Grace Bay, Point Grace exudes an aura of elegance inspired by classic, turn-of-the-century British Colonial architecture. The hotel's 28 luxurious suites and penthouses are adorned with mahogany entry doors, Turkish Saturnia floors, Indonesian teak furnishings, and plush Frette linens. The hotel showcases its Point Grace Thalasso Spa with treatment cabins located directly on the beach. An innovative spa menu features treatments formulated from local plants, herbs, and sea salt. Guests of Point Grace enjoy complimentary access to non-motorized water sports, use of the nearby Pulse Gym, transportation to nearby golf and tennis, and roundtrip airport transfers. Other extravagances abound, including daily complimentary continental breakfast, afternoon sorbets, and evening cocktails and canapés.
Hotel Vitale • San Francisco, California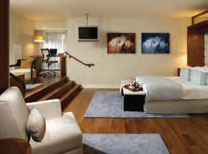 Embodying the very best of the "good life," Hotel Vitale-San Francisco's landmark waterfront boutique hotel - redefines sophistication with highly personalized service and amenities that allow travelers to relax in unparalleled comfort. Modern and fresh, this unique city retreat is highlighted by stunning water and city vistas, along with the equally impressive Spa Vitale and signature restaurant and bar, Americano. Two hundred splendidly appointed guest rooms feature bathrooms adorned in limestone, luxurious linens, and subtle color schemes designed to promote vitality. The hotel's impeccable touches and four-star services are provided in every guest room, from complimentary Wi-Fi or high-speed Internet access to LCD flat-screen televisions and honor bar. With a thoroughly professional, yet friendly staff, Hotel Vitale serves as the perfect nesting sanctuary for enjoying all of San Francisco's incredible attractions and nightlife.