Agent Recommended

Baby Boomers

Culinary

Destination & Tours

Experiential Travel

Family Travel

Luxury

Off the Beaten Path

Romantic Travel

Travel Buzz
Off the Beaten Path Eats in NYC
By Andrew Wainer
New York is arguably one of the greatest restaurant cities in the world. One can dine at one of Mario Batali's restaurants (try Babbo), pay a visit to Daniel, or sup at Gotham, right in Gotham! The range of cuisines and expert chefs are simply endless. And although New York City's top restaurants are indeed first-rate, odds are the average food-loving New Yorker will never cross their thresholds. But don't get your tummy in a rumble, for New York holds many hidden restaurant gems just waiting for you to unearth.
As a self-proclaimed "Culinary Adventurer," it is way more fun to enjoy the sense of accomplishment in finding a small, out-of-theway eatery (and the type of place where one can pay the bill without taking out a secondmortgage). But because I'm in a sharing mood, I'd like to reveal some of my favorite hidden restaurant gems, choosing places that most long-time New Yorkers walk by each day, almost without notice. All of these eateries, albeit one, fit this description.
NEW YORK CITY FOOD FINDS REVEALED
Katz is Where It's At
I'll begin with the exception. Because I have a flair for the dramatic, let's pretend for a moment that I had to choose my last meal on earth. Hands down it would be a pastrami sandwich at the famous Katz's Deli (www.katzdeli.com), located on the Lower East Side ofManhattan. Sure, the city is full of top-notch eateries serving the finest food on earth, but this quintessential NewYork deli is legendary. Picture this: hand-cut pastrami, sitting between fresh rye bread, looking very much like a meat mountain, residing next to a large bowl of fragrant kosher pickles. It does not get any better.Add in a potato knish and a Dr. Brown's cream soda and you're in heaven. Now that I've paid homage to the temple of cured meat, let's get down to the nitty gritty.The remainder of our culinary journey consists solely of out-of-the-way, seldom-heard-of eateries (this article will disintegrate in 3...2...1...).
Hot off the Panini Press
Located on Bedford Street in Greenwich Village, 'ino (www.cafeino.com) is a tiny, 25-seat restaurant brimming with eager customers.Try a panini, as this is their specialty.My favorites are the three cheese, and the portobello, grana and sun-dried tomato pesto panini.The egg and cheese with sweet onions panino, accompanied by a large cup of coffee, is my idea of NewYork City breakfast perfection. Plus, theWestVillage has a European flair where one can spend hours strolling and exploring the little shops and specialty stores that dot the tree-lined streets.
For a romantic, perfectly prepared Italian meal, I wholeheartedly encourage you to visit Aurora. Hop on the "L" train to the Bedford Avenue stop in Williamsburg, Brooklyn.A short walk takes you to 70 Grand Street toAurora (www.auroraristorante.com), a small Tuscan restaurant where I could dine each day for the rest of my life. No exaggeration, I have never had anything but an authentic, spectacular meal here, no matter what I've ordered. My first experience at Aurora was with my son who lived in Italy for awhile after graduating college. Halfway through his meal at our table in the garden (open 12 months a year), he commented that he felt he was back there. Even as a "first timer," you are welcomed as a friend.The service is professional and the food is just heavenly.
Sweet Sweets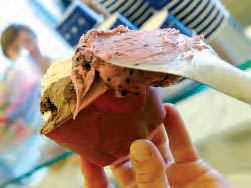 For dessert, visit Grom (www.grom.it) for world-class gelato. It is absolutely the best I've tasted, even surpassing ones I've tried in Italy.The chocolate is super-charged and my absolute favorite, but the pistachio must be tasted to be believed. It's a bit pricey for such a small cup, but believe me, one could not eat much more of this creamy, luscious treat. For even more fabulous desserts, walk a few blocks to Jacques Torres Chocolate (www.jacquestorres.com) at 350 Hudson Street.Torres is best known as the dessert chef at Le Cirque, whose dream was to open his own chocolate factory. Stop by and watch the chocolate actually being made and molded into various seasonal treats, and be sure to have a cup of his Wicked Hot Chocolate at the bar.