Agent Recommended

Baby Boomers

Culinary

Destination & Tours

Experiential Travel

Family Travel

Luxury

Off the Beaten Path

Romantic Travel

Travel Buzz
Hello Asia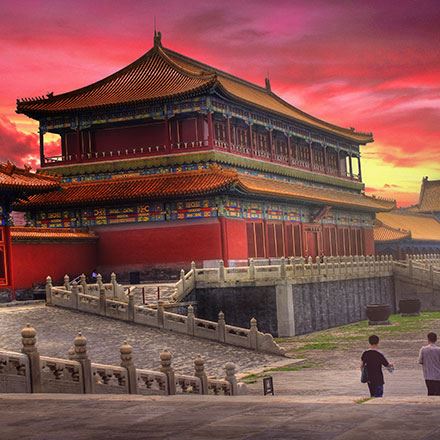 Beautiful and frenetic, sublime and sometimes unpredictable, Asia's vast tapestry of ancient cultures and brilliant landscapes have delighted travelers for centuries – and there couldn't be a better time to experience five of its most fascinating countries for yourself.
Asia is a continent so full of adventure and intrigue that one could spend years traversing its many countries and cities and still not experience all its fascinating sights, sounds, and flavors. With so much to explore and experience, we've chosen some of our favorite bucket list adventures that will make you fall in love with Asia and its countless wonders.
Exotic India
With its exotic temples, splendid palaces, incredible wildlife and enticing cuisine, India promises to be a place you'll never forget. Here one can explore a diverse land that combines the traditional and modern with surprises around every corner. At one side, India boasts the immense Himalayas, while on the other, it enjoys miles of exotic beaches. Every landscape will inspire and you'll be welcomed by a culture of fascinating traditions and warm smiles. If you enjoy traveling a bit off-the-beaten-path, consider
exploring India's great royal cities and palaces of the Raj, the wilds of the Ranthambhore National Park, the deserts and colorful forts of the west; and journey south to historic temples, tropical forests and exotic coastlines. India boasts a colorful calendar of festivals and fairs. Packed with fun and excitement every season brings with it new celebrations. The birthdays of gods and goddesses, saints and prophets, historical events and the advent of the New Year are all depicted in vibrant festivities. From squidgy South Indian idlis (fermented rice cakes) to zesty north Indian curries, foodies can look forward to savoring a seductive smorgasbord of specialties. There are regional specialties, and staple ingredients in each state combining to create a diverse and thrilling cuisine.
For a comfortably paced tour of India, Insight Vacations' Luxury Gold 14-day tour of classical India with Nepal takes you on a journey into a wonderland of the exotic and enigmatic, full of strange fascination — from the temples of Khajuraho and the splendid Taj Mahal, to the ashy presence of Hindu holy men and the world's only official living goddess. These two countries move in their own mysterious ways, often inundating the senses, so it's comforting to know you will be in the expert care of Insight's Luxury Gold Traveling Concierge and enjoy a superior level of quality, comfort and service.
The Beauty of China
Despite its mighty economy, China is a gentle, genteel giant and a historically important country where ancient customs and gentle politeness are particularly significant — and where even making a cup of tea is a sacred art form. Must-see cities like eclectic Beijing, buzzing Shanghai, and historic Xi'an are mixed with its must-do experiences, like cruising down the iconic Huangpu River at night. Bordered by mountains on three sides, Beijing is a flat metropolis and home to more than 20 million people. But no amount of steely modernity can hide its status as China's former imperial capital. The sights are world famous and include the Forbidden City, a 250-acre complex of courtyards, palaces, pavilions and gardens, the emperors' palace, and, of course, the Great Wall. In Shanghai you can look beneath the surface of China's most dynamic and westernized city and find an array of temples, street markets, classic Chinese gardens and ancient monasteries. Here you can admire the varied architecture on the Bund, explore the old town, a little known treasure trove of winding streets, and visit a silk museum.If you've ever wondered what it would be like to takea step back in time, a very long way back, then Xi'an is for you. In fact, no time machine is needed when you can visit Xi'an, the imperial capital that lasted for more than 11 dynasties between 1,000 B.C. and 1,000 A.D. Today it's bursting with remnants of its ancient glory. One of its most significant sites is the Terracotta Warriors sculptures, which were created 2,000 years ago to guard the tomb of China's first emperor, Qin Shi Huang. On Trafalgar's 10-day Classic China trip you'll enjoy all three of these unforgettable destinations in supreme comfort. In addition, you also experience many insider moments like dashing through the ancient hutongs by rickshaw. Local Specialists will add a personal touch to all the iconic sights, including the oldest city wall in China and the impressive Giant Wild Goose Pagoda.
Discover the Treasures of Japan
A country filled with shrines next to skyscrapers, Japan is an island nation where the past meets future in some of the most spectacular ways imaginable. Japan consists of more than 6,800 islands sprawled across 1,800 miles to create the perfect archipelago. The north consists of subarctic climate with beautiful mountain scenery and open plains, while the south is subtropical, famous for hot weather, beaches and resorts. Japan has distinct seasons, making it great to visit at any time of year. Spring in Japan is famous for the beautiful blooming cherry blossoms. While the summer months can hot and humid, the mountains provide fantastic escapes that time of year when many festivals take place. Autumn brings the fiery blaze of foliage. In the winter, the mountains and northern Japan provide good skiing. The south and Pacific coast is milder than other parts of the country. Winter is a great is a great time to experience Japan's hot springs, many of the best can be found in Tohoku, the northern most region of the main island. When visiting Japan be sure to explore its many internationally renowned and inspiring gardens. The juxtaposition of the country's bustling cities to the serene beauty of the gardens make for a fun and often surprisingly vibrant tour of Japan. Internationally renowned for their stunning perfection, Japan's gardens are a true delight for the senses. From Tokyo to Kyoto, temples to stunning gardens, Collette's 13-day Beauty of Japan tour has it all. This exclusive tour offers a better understanding and appreciation for the gardens and landscapes of this East Asian land. Guests will visit two of the Big Three Gardens of Japan, several other well-known gardens, and some handpicked favorites enjoyed by locals. Additional highlights include travel via the famous Shinkansen, or "bullet train," to Kanazawa and Osaka; a visit to a local farm; and a cruise on Sumidagawa River in Tokyo.
Unforgettable Vietnam & Cambodia
As a hub of culture and cuisine in Asia, Vietnam and Cambodia paint an vibrant picture of Southeast Asian life. For a small sliver of land on the Eastern coast of Asia, Vietnam packs a sightseeing punch! With miles of untouched beaches, inquisitively sculpted ocean landscapes, and cities jammed with motorbikes and friendly locals, Vietnam has become one of the top travel
destinations in Asia. Do venture outside the country's bustling towns and cities to visit the Cu Chi Tunnels, a network of tunnels
used by the Viet Cong during the Vietnam War. Visit the Royal Tomb of Tu Doc in Hue, and in Hoi An take a walking tour and meet a local fisherman for a fishing lesson where you will learn how to use a traditional round fishing net, known as a "ro." Top off your journey through Vietnam with an overnight cruise on stunning Ha Long Bay. Of course, no visit to Southeast Asia would be complete without spending time at the Angkor temple complex in Siem Reap, Cambodia. These ancient temples, built between the 9th and 13th centuries, are unmatched among ancient ruins anywhere in the world. Here you can see several of the temples,
including spectacular Angkor Wat, built in the 12th century and honoring the Hindu god Vishnu. Words and photos simply can't describe these amazing structures. If you're the active type of traveler, then Globus' 13-day Exploring Vietnam & Cambodia tour is for you. On this fascinating Vietnam and Cambodia tour you'll explore several of the world's greatest treasures, behold spectacular scenery, learn about different cultures, and experience the warmth and hospitality bestowed by the locals. It's the trip of a lifetime. So pack your camera and get ready for a vacation sure to delight the adventurer in you!


Cambodia — A Kingdom
Further Revealed
No matter where you travel in Cambodia, the past is
always present. History, both ancient and modern, is everywhere. Whether you're cycling in the shadows of the mighty Angkor Wat, wandering the streets of cosmopolitan Phnom Penh, or exploring the Irrawaddy in search of river dolphins, you can't escape the pull of time that shaped — and continues to shape — this intriguing land. After decades of civil war and the genocide wrought by the Khmer Rouge, the violence of Cambodia's modern history looms large. But with the introduction of democracy, modern Cambodia sits poised on the edge of a new revolution: travel. This is due in no small part to the beautiful and vast jungle-choked ruins of Angkor Wat, ancient capital of the Khmer Empire and the world's largest single religious monument. Only a handful of the 1,000-plus temples have been cleared of forest, while the rest remain so atmospherically cloaked in vines they are often used backdrops for Hollywood films. But no matter whether you follow in the footsteps of adventurers of yore or plumb the dark depths of the Killing Fields, Cambodia leaves an indelible impression. If you have already visited some of Asia before and are looking for something more off-the-beaten-path, G Adventures' 14-day Ultimate Cambodian Adventure is meant for you. This mind-expanding trip features all of Cambodia's highlights, culture, access, and I-can'tbelieve- we-did-that moments, all at a great price. Light walking and hiking can be expected, though nothing too challenging. Best of all this small group experience averages just 12 people!