Agent Recommended

Baby Boomers

Culinary

Destination & Tours

Experiential Travel

Family Travel

Luxury

Off the Beaten Path

Romantic Travel

Travel Buzz
¡Muy Bueno!
By Anne Dimon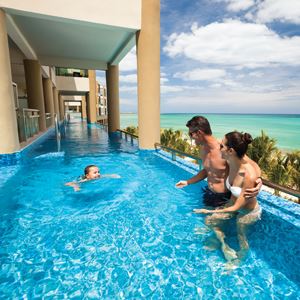 Looking for a stress-free family vacation? Then consider an all-inclusive resort in Mexico!

For many travelers, the term "all-inclusive" translates to an "easy, stress-free vacation." The option is an excellent choice for busy families. Over the years – from the time my daughter was a toddler and right through into her teens – my family has enjoyed many all-inclusive vacations at resorts in Mexico and the Caribbean, and we have found them to offer excellent value.

The term "all-inclusive," can, however, sometimes be misleading. Things that are rarely included are extras such as car rental, gift shop items, some excursions, sports equipment and spa and salon services. Sometimes even select restaurants or on-site activities are beyond the boundaries of the all-inclusive package. So, when in planning mode, one must keep in mind that just because an activity is offered at a particular resort, it is not automatically covered in the one-price per person fee.

What's included and the quality of what's included (Champagne versus sparkling wine, for instance,) general depends on price. Like so many things in life, you get what you pay for.

At a three-star resort you might find basic accommodations, all meals at one or two restaurants (perhaps with different daily food themes) and some activities such as beach volleyball and pool aerobics. At the other end of the scale – a deluxe, five-star property –your all-inclusive package comes with luxury accommodations, a wider choice of dining options including a-la-carte gourmet, guestroom mini bars refreshed daily with premium brands, a wider variety of activities and extra features such as all-inclusive butler service.

The Family Factor

One of the more popular destinations for all-inclusive, multi-generational family travel is Mexico – and for many very good reasons.

Picking up on the multi-generational travel trend, an increasing number of all-inclusive Mexican resorts offer everything from babysitting services, kids and teen clubs, gourmet restaurants and an extensive list of activities that run the gamut from arts & crafts to yoga. Another unique activity included is the signature FlowRider surf featured at Moon Palace Golf & Spa Resort in Cancun. This just goes to prove there's something for every taste and interest.

At many all-inclusive Mexican resorts, on-site clubs for kids and teens are now more like summer camps than simple activity centers. At Dreams Sands Cancun Resort & Spa the Explorer's Club offers daily supervised activities including sandcastle contests, treasure hunts and even a weekly campout adventure. The resort's Core Zone Teens Club offers age-appropriate activities from morning to midnight.

At Generations, a program called Eko Kids Club features supervised educational activities with an environmentally-friendly twist for kids aged four to 12 years. As a new grandmother, I'm impressed that the inclusive offerings extend to items that make a vacation more convenient for parents of infants – things like strollers, cribs, changing tables, baby size lounges that offer shade and nanny service. Young teens can take tango or salsa lessons, go horseback riding or participate in planned beachfront and water activities.

At Palace Resort's Cozumel Palace a wide range of activities for kids includes Spanish lessons, piñata-making and interactive games such as Mini Olympics. For adventure-driven families Cozumel Palace recently partnered with Aqua Safari to offer guests on-site access to an experienced dive team plus the company's fleet of fully-equipped vessels.

On Vacation, Everyone is a "Foodie"

Beyond good weather, great food is what people most remember about a vacation. Depending on the length of stay, the number and variety of on-site restaurants might be an important consideration especially when you take your family's diversity of tastes into consideration. At Palace Resorts' Cozumel Palace five on site restaurants serve a variety of cuisines including Italian, Oriental and Mexican.

For younger "foodies" one of the more innovative children's programs offered as part of an all-inclusive package is Generations' Little Eko Chefs. Offered every weekday at the Kids Eko Kitchen, classes include the History of Chocolate, Tamale Making and even classes where the budding chefs are taught to fill and roll sushi, or make their own pasta and turn it into ravioli to share with the family for dinner. A Greenhouse Harvest class allows the kids to select vegetables and herbs from the resort's own 75,000 square foot Greenhouse and turn them into garden fresh soups and salads.

Depending on your family's personal tastes in food, activities and lifestyle level of comfort, somewhere, out there, surrounded by sea, sand and sun, there awaits the perfect "all-inclusive" fit.

Remember to contact your local travel professional to book these and many more all-inclusive resorts in Mexico.