Agent Recommended

Baby Boomers

Culinary

Destination & Tours

Experiential Travel

Family Travel

Luxury

Off the Beaten Path

Romantic Travel

Travel Buzz
Great Eats: Dublin
By Kathleen M. Mangan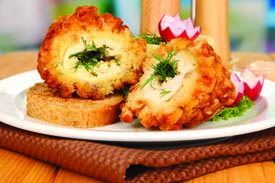 Gone are the days of stew or corned beef and cabbage on Irish menus—nowadays you'll see free-range
Skeaghanore duck with vanilla-infused rhubarb coulis, wild-caught John Dory, foraged mushrooms and artisanal goat cheese. A foodie culture has taken over in Ireland; the emphasis on locally sourced ingredients is so strong that many restaurants list the fishing boats, farms and other suppliers.

Dublin is the cultural heart of this sociable country, so it's no surprise that the city hosts a vibrant restaurant scene, from Michelin-starred establishments to trendy bistros with celebrity chefs, gastro pubs and restaurants with new twists on traditional fare.

Gallagher's Boxty House
It doesn't get any more Irish than boxty, a potato dish that is boiled like gnocchi, fried as a pancake or baked like dense bread. There's a long preparation process, so it's rare to see boxty on a menu. At Gallagher's, all three types are served with an extra helping of innovation. Owner Pádraic Óg Gallagher was the first to highlight boxty on a menu and use the pancakes as a wrap.

Try boxty dumplings in Cashel Blue cheese sauce, followed by Gaelic Boxty, the house specialty, a boxty pancake filled with Irish fillet beef medallions in whiskey and portobello mushroom cream sauce. The humble spud elevated.
www.boxtyhouse.ie

L. Mulligan Grocer
At this gastro pub, dining is a double=layered experience of local ingredients-inspired food paired with handcrafted beer or whiskey. Each menu offering has a recommendation from their list of 120-plus beers, and 150-plus Irish and Scotch whiskies.

The Scotch egg starter is paired with Widmer Brothers Hopside Down; the free-range chicken Kiev with Inishowen Whiskey butter is paired with Goose Island IPA; and the Hofblues chocolate mousse is paired with Glenmorangie Nectar D'Or. Food purveyors are named in the menu. The chunky wood tables here fill with chatty, jovial friends.
www.lmulligangrocer.com

L'Ecrivain

Be prepared to spend an entire glorious evening savoring the spectacular 10-course tasting menu at l'Ecrivain. This oh-my-God restaurant owned by Chef Derry Clarke and wife Sallyanne has had a Michelin star since 2003.

Clarke prepares his signature dishes with first-rate ingredients and classical French technique, and presents them with colorful flair. There are many elements on a plate for a complexity of flavors highlighted by drips of sauce and leaning constructions. Martina Delaney, one of Ireland's top sommeliers, explains the undiscovered wines paired with each course that enhances the experience of the food, as if that is possible.
www.lecrivain.com

Hatch & Sons Irish Kitchen
This cozy restaurant has the feel of your grammy's kitchen with a big kitchen table fronting the open cooking area. The food here is honest and flavorful; the kind of food-without fuss you'd serve good friends.

With a central location beneath The Little Museum of Dublin, it's a handy spot to meet for breakfast or nosh on a gourmet cheese board after shopping in the afternoon. At breakfast go for baked eggs, sausage and bacon served in an iron skillet with brown soda bread; for lunch try a blaa, a soft white roll, with spiced beef, Coolea cheese and onion relish.
www.hatchandsons.co

The Westin Dublin
Located by Trinity College, The Westin is the place for afternoon tea. Here the standard tea service is transformed into "A Most Peculiar Afternoon Tea." Instead of a pot of Earl Grey, a Hendrick's Gin teapot contains a Victoria Mojito made of Hendrick's Gin, mint, lime and fresh-pressed apple juice.

The three-tiered server is also full of quirky delights—confit of pork cheek with Stilton cheese and honey aioli; prawn cocktail filled charcoal cone; oak-smoked Irish salmon, caviar and cream cheese blini; and popcorn panna cotta. Purists can have traditional afternoon tea. Book a table by the fireplace in the glass-roofed Atrium Lounge.