Agent Recommended

Baby Boomers

Culinary

Destination & Tours

Experiential Travel

Family Travel

Luxury

Off the Beaten Path

Romantic Travel

Travel Buzz
Smooth Sailing
By Robyn Levy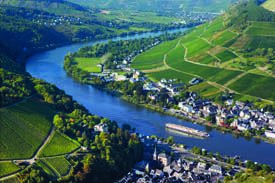 Small is beautiful.
And that's one of many things that sets river cruising apart from other vacation options.

With travelers looking now more than ever for authentic experiential vacations, river cruising is a great choice. Essentially a floating boutique hotel, river cruises provide access to smaller ports in quaint cities that large ships cannot go. This is hands-on, experiential travel at its best…go truffle hunting, enjoy folkloric entertainment, participate in a candy and rice paper workshop, visit UNESCO World Heritage Sites, shop in world-class cities… the options are nearly endless. Then on board, the experience is complemented with lectures about the regions being visited, so travelers truly get an up-close-and-personal look at the local culture and tradition.

Eat Your Heart Out
Travelers experience the very best foreign delicacies on a river cruise. Because the onboard chefs are usually local to the area guests are traveling through, they'll experience the finest local produce and recipes that are indigenous to each port of call. Locally sourced wines can also be found onboard.

River cruise dining is an experience all in itself because of its open seating plan, which encourages more interaction amongst passengers. Travelers indulge in gourmet cuisine anywhere they'd like. Several river cruise lines also offer unique dining options…expect a chef 's table and al fresco dining with Viking Cruises or a bistro option with Avalon Waterways.

Why Small is Beautiful
River cruise ships are generally smaller than ocean liners as they have to navigate the sometimes shallow and tricky waters of an inland waterway. That's why most generally accommodate under 200 guests. The ship's motion on a river is quite different from that of the ocean, so travelers who are prone to motion sickness are much less likely to be affected.

The high staff-to-guest ratio makes for the highest level of service. Don't like the brand of mustard a river cruise ship is stocked with? Not a problem. Don't be surprised if something as small as a mustard preference is accommodated quickly and with ease.

New Explorations
A value-add for river cruising is its excursions, all of which are included in the price of a cruise. Ships dock right in the heart of most cities being visited, so travelers can easily go back-and-forth between the ship and its current destination, exploring at their leisure. Personal audio receivers are often available so travelers don't have to be right beside their guide to hear what they have to say. In some destinations, guests can be as far as a block away to hear what's being said…which is perfect for travelers who want to window shop or grab a quick cup of coffee.

The World Is Your Oyster…Literally
Due to its growing popularity, more and more river cruise ships are on the water and circling the globe. Three notable options include Uniworld Boutique River Cruise Collection, Viking Cruises and Avalon Waterways.

Launching in 2015, Uniworld's new Super Ship, S.S. Maria Theresa, will set sail around Europe with an exceptional selection of itineraries. Its Ultimate France itinerary offers the very best of each region, including Paris, the Normandy coast, Bordeaux, Burgundy and Provence. Guests will tour capital cities and explore ancient villages, visiting the Palace of the Popes in Avignon, perusing the famed farmers' market in Lyon and enjoying local wine tastings. Another highlight is the new Eastern Europe Explorer itinerary, which will sail through Hungary, Croatia, Romania, Serbia and Bulgaria. Guests will tour the eerie rock formations of Belogradchik, the ornate 17th century churches of Arbanassi and the eclectic mix of French-influenced architecture.

Viking Cruises recently christened 18 vessels, one of which includes the Viking Baldur. One of its popular itineraries takes guests through the Netherlands and Germany. Travelers cruise through the Middle Rhine Valley, taking walking tours of medieval castles and cobbled streets. Highlights include a sampling of local beers, a stop at the site of World War II's Operation Market Garden and a visit to Germany's sandstone ruins. Twelve new vessels are scheduled to launch next year, along with two new itineraries highlighting the Rhine River.


Avalon Waterways is another great option for river cruising. Avalon Myanmar, launching in 2016, will offer a number of unique itineraries across the Asia-Pacific region. Travelers will explore the best of Myanmar, known as "The Golden Land," along the Irrawaddy River. Guests will cruise past lavish shrines, teak forests and riverside villages, stopping for an unforgettable sampan ride at sunset. They'll learn how villagers make candy from the toddy palm tree and take a walking tour through a pottery-making village to see the process from start to end. Other highlights include a stop at a local market, the opportunity to "ride" an elephant through the forest and a visit to a farmer's home for a glimpse of daily life at the island village of Kyun Daw.

The experiences that await on a river cruise are limitless. So no matter what choice is made, river cruise guests will always set sail in style.