Agent Recommended

Baby Boomers

Culinary

Destination & Tours

Experiential Travel

Family Travel

Luxury

Off the Beaten Path

Romantic Travel

Travel Buzz
New Perspectives from the River
For those of us with stress-laden careers and complicated personal lives, enjoying what vacation time we have often means packing in as much nonstop fun and sightseeing as is humanly possible. Of course, the unfortunate downside of this leaves even the best of us weighted down by the dreaded "vacation hangover" — that tired, bummed out feeling you have upon returning home and there's absolutely no motivation to assimilate back into the real world.

While you could ask your boss for a few extra days of R&R (good luck with that), a growing number of travelers are turning to river cruises as a way to enjoy more of their vacation time without the hassles tied to traditional getaways.

The Other Side of Cruising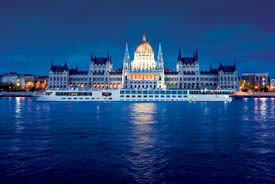 Unlike traditional ocean cruises with their larger than-life ships and more limited itineraries, river cruising provides a completely different experience and takes you places only a river cruise ship can go. A river cruise offers a historic and tranquil backdrop on elegant floating hotels complete with excellent service and gourmet cuisine. This wonderful mode of discovery offers easygoing comfort and convenience because you only unpack once and are taken from one fascinating country to the next, creating memories that will last a lifetime, all at a unhurried pace. Best of all, there are wide array of itineraries on many of the world's most scenic rivers and waterways.

Along the way you'll have the opportunity to uncover the treasures such as charming squares, magnificent cathedrals and bustling marketplaces just a stroll away from the vessel. There is no waiting in long lines to get on or off the ship, and there are always amazing sites to explore — scenic vineyards, historic castles, or countless UNESCO World Heritage Sites — even from the comfort of your ship and stateroom via panoramic views.

Small Ships = Big Fun

River cruise ships are necessarily smaller than ocean cruise ships as they have to navigate the sometimes shallow and tricky waters of an inland waterway. Most river cruise ships generally accommodate between 100 and 200 people, although, some are even smaller. The ship's motion on a river is quite different from an ocean cruise, and is much less likely to bother anyone who may be prone to motion sickness.

River ships truly afford you the opportunity to see more of the world, visiting intimate, ancient towns and villages that can never be reached by ocean going ships. Charming cities like Amsterdam, Vienna, Budapest, Rouen, Paris, Lyon, Strasbourg, Prague, Moscow, St. Petersburg, Beijing, the Nile River, the Mekong River of Vietnam and many more can only be reached by river cruise ship.


River cruising is available year round in most warm weather climates, but most cruise lines curtail their sailings from November to March. In northern climates the rivers freeze over the winter, necessitating a shorter season that usually runs from April or May through October or November, depending on river conditions. Because river cruise ships hold fewer passengers and do not run as frequently as ocean cruise ships, accommodations tend to fill up rather quickly. Your best bet is to book your river cruise as early as possible to ensure your place on the ship. Be sure to contact your local travel professional to help you find the perfect river cruise that fits your personal taste. Avalon Waterways, Uniworld Boutique River Cruise Collection and Viking River Cruises offer cruises to Europe, Asia and many more fascinating destinations by way of some of the world's most celebrated rivers and waterways.

Expert tour guides provide travelers with a background, context and regional perspective on the many towns, cities and ports of call visited. As well, cruisers can enjoy plenty of deep cultural enrichment with demonstrations, workshops and performances that supplement onshore exploration. Themed river cruises and cruisetours are very popular and heighten in-depth experiences even further.