Agent Recommended
Baby Boomers
Culinary
Destination & Tours
Experiential Travel

Family Travel
Luxury
Off the Beaten Path
Romantic Travel
Travel Buzz
Spring Break On A Gem of a Cruise
By Marissa Candela
The weather was cold, wet and gloomy in New York, but we were warmed with excitement. Anticipation bubbled on the 45-minute cab ride from Long Island to Manhattan, as we prepared to set sail aboard the NORWEGIAN GEM for a 7-day spring break cruise...
My 6-year-old daughter and I were joining my brother, his wife, my 5-and 9-year-old nieces and our parents for what promised to be a week of fun-filled family activity in Florida and the Bahamas—especially since Norwegian Cruises Lines are pioneers in "freestyle cruising, "which basically means you're "free to do whatever you want, whenever you want."
Seven days worth of luggage was whisked away at the pier entrance with the promise it would be waiting in front of our mini-suites within a few hours. After a thorough security clearance, we were soon checked on and our vacation began…
SATURDAY, EMBARKATION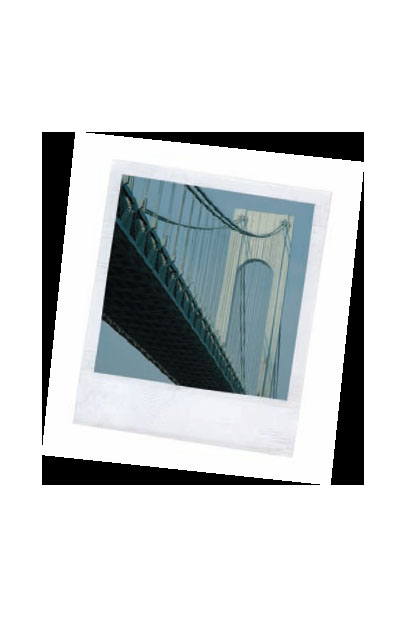 As we boarded the enormous floating hotel, we were greeted with champagne, music and age-appropriate Youth Program brochures for the girls. Room cards were doled out, which also conveniently served to track all on-board expenses. The main lounge was bustling with people exploring the ship while their rooms were prepared.  Youngsters played Wii on the lounge's enormous flat screen, while others were making a week's worth of dinner reservations at the 12 restaurants (some with cover charges).Others were reserving fun excursions for the ports of call in the coming week, though we decided to have lunch.
We were quickly seated at the cover-free Grand Pacific Restaurant—a beautiful, classic dining room, and enjoyed the first of many excellent meals. I was pleased to see a varied kids menu with many healthy choices.  Table-wide consensus was to partake in dessert, which we did for practically every meal thereafter.
After a quick safety drill with life vests in tow, we set sail. We were excited to explore our mini-suites, which were surprisingly sleek and spacious. I particularly loved the sliding glass doors that led out to a balcony, which proved to be quite safe (a concern of mine with the little one).
After unpacking, we went up to the outside top deck to explore and check out the view as we sailed away from New York. Soon we hit Bali Hali bar, one of 11, for our first libation. Everyone playfully yelled in unison as we passed under the Verrazano Bridge.
SUNDAY, DAY 2
Easter Sunday was spent at sea, so some of us settled by the pool that day after a huge buffet breakfast. With the weather warming as we made our way towards Florida, the girls were anxious to try the pool and water slide. I went off to the gym and enjoyed a blissful workout. There were plenty of activities and entertainment on board, including an Easter egg hunt. That evening, dressed to the nines we wined, dined and celebrated the holiday together as a family.
MONDAY, DAY 3
The next day, we arrived in Orlando, Florida via Port Canaveral to a sunny and perfect 82 degrees!  We decided to head to SeaWorld as the girls were excited to see Shamu.  At the stadium show we opted to sit in the "splash zone" and were soaked by the enormous whale. Squishing through the park, we saw other awesome shows and attractions, including a dolphin nursery.  And by day's end, we were completely exhausted and anxious to get back to the comforts of our ship.
That evening, we enjoyed yet another great meal at Magenta, the smaller of the two traditional dining rooms. Its modern decor and seating were a fantastic alternative to the Grand Pacific. We then headed over to enjoy some Sinatra-esque live music at the piano bar.  Afterwards, my brother and I moved to Bliss Lounge, a Manhattan-style dance club, where we danced before ending the evening at the casino and a late-night buffet.
TUESDAY, DAY 4
We arrived at Norwegian Cruise Lines' private island called Great Stirrup Cay, but opted to stay onboard the ship and enjoy the pool.  Hey, it's freestyle cruising, remember? You're free to do whatever…That evening, we enjoyed some hibachi at the Teppanyaki Room. The girls delighted in watching the talented chefs perform culinary tricks while preparing their 5-coursemeal. Later on, the adults caught a show by amazing jazz vocalist, Jane L. Powell.
WEDNESDAY, DAY 5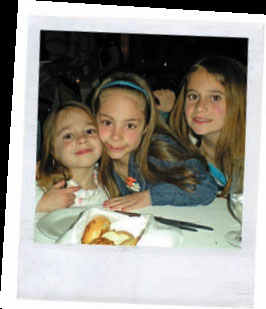 The next day we arrived in Nassau and headed over to Atlantis.  Although the Acquaventure water park excursion was sold out, we did enjoy the hotel's aquarium and had a fantastic, full-filled day at the beach.  Later that evening, the grandparents took the girls to dinner and a magic show, while the parents enjoyed dinner at Cagney's steak house, one of the ships premium restaurants. Cagney's elegant art deco themed decor provided the perfect backdrop for their delicious steaks, grilled fish, chicken, and veal.  After dinner, we ventured to the top deck and enjoyed a reggae-inspired band poolside at a Caribbean themed party. And although an "everything chocolate" buffet looked decadent and delicious, we had already enjoyed our fill of dessert at the restaurant.
THURSDAY, DAY 6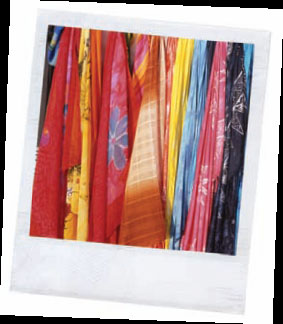 The next day offered a quick stop in Freeport for some souvenir shopping right outside the ship. Part of our group disembarked, but lounging by the pool amongst music, fun and cocktails was my idea of how to spend the day.  That evening, our family opted for Chinese food at the Orchid Garden, which offered an array of Asian delights, including Japanese. I opted for the sushi and sake!
FRIDAY, DAY 7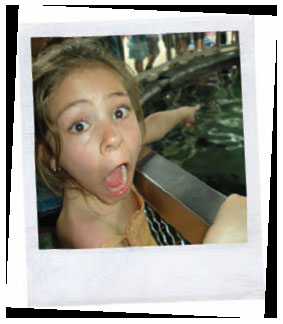 On our last day at breakfast en route to New York, we managed to see a large school of dolphins alongside our ship. Everyone was looking forward to the poolside barbeque, which promised day-long entertainment, games, and lots of food, of course!  For our last official dinner on board, we reserved a table at the beautiful Le Bistro. We enjoyed a few cocktails at the adjacent Wine Bar, then headed over to admire some of the restaurant's wonderful artwork, including a piece by Henri Matisse. Le Bistro offered French classics such as escargots and mussels, and main courses with delicious sauces. Despite the restaurant's cover, it was one of the most memorable meals of our trip—complete with chocolate fondue for dessert!
SATURDAY, DISEMBARKATION
The next morning, we were all out on our balconies as we pulled alongside the Intrepid in New York. This time, the weather was clear and we could see the skyline with the Verrazano Bridge in the distance. Leaving the ship was an absolute breeze, as we were instructed to put our packed suitcases with designated colored tags outside of our stateroom the night before.  All on-ship expenses were settled and after breakfast our tag color was called down to the lobby where we disembarked, cleared security, and picked up our luggage.  The process was amazingly smooth and organized, considering the 4,000-plus vacation-happy passengers.